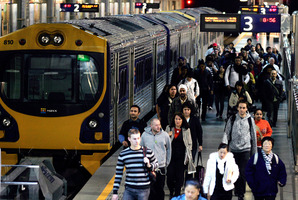 Auckland train staff have to overcome their Kiwi tolerance and show no mercy to tardy passengers to improve "appalling punctuality", say senior transport officials.
There will be no exceptions for passengers such as Auckland Transport board member Ian Parton, who admitted to his fellow directors that a train driver waited for him at Remuera Station yesterday morning as he ran down a platform ramp.
A 2.9 per cent fall in rail patronage last month from the previous May raised the heat at the board's monthly meeting on poor time-keeping, particularly on the eastern line through Glen Innes.
Although annual patronage rose 13 per cent, to 10.95 million passenger trips, Auckland Council transport chairman Mike Lee said the monthly figure was symptomatic of a systemic problem causing "appalling punctuality on the eastern line".
Only 71 per cent of services on the line arrived at their destination within five minutes of scheduled times, compared with 81 per cent throughout the region, although that was better than 68.1 per cent in April.
Whereas declines usually occurred in months when there were fewer working days than the comparative period, Mr Lee said there were more of those last month than in May last year. "It just reinforces we are dealing with a market made up of people who have choices," he said, regarding last month's rail patronage figure - which was in contrast to an overall 8.7 per cent increase in public transport trips, including 13.6 per cent on the ferries.
"We have to think about the quality of the offering."
He blamed the time trains took to disembark and load passengers at stations, as well as continuing signals failures, a KiwiRail responsibility.
Auckland Transport chief executive David Warburton said time-keeping needed to be more rigorous.
People had to get used to trains not waiting for them if they were 30 seconds late. Dr Parton acknowledged services had to become more attractive, saying an Auckland Plan target of doubling public transport to 140 million annual passenger trips by 2022 was "a major ask and it's not going to happen by accident".
But during an inspection of a "mock-up" electric train carriage, Auckland Mayor Len Brown hailed the new fleet being built for the region for almost $500 million as an example of what was needed to meet the goal.
"We've got an old system we've been looking to replace for years and we're finally at that point," he said.
The first of 57 three-car trains to be built in Spain are due to start running in Auckland in 2014.