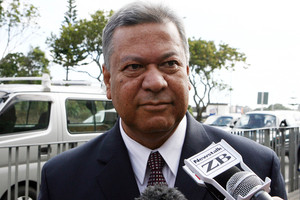 Disgraced former Labour MP Phillip Field could be ordered to pay more than $50,000 by the courts - the value that the Crown says he got from free tiling, painting and plastering work done on his properties.
Field was sentenced to six years in prison in October 2009 after being found guilty of 11 charges of bribery and corruption as an MP and 15 charges of perverting the course of justice.
The Crown said Field accepted work on his properties in south Auckland, Wellington and Samoa from Thai nationals in return for immigration assistance.
The work included tiling, painting and plastering.
Now the Solicitor General is asking the courts to order Field to pay $58,000 for those services under the Proceeds of Crime Act.
Representing the Solicitor General, lawyer David Johnstone told the High Court at Auckland today that the figure is derived from expert evidence given at Field's trial about the value of the work on five of Field's properties.
Mr Johnstone said the court could also take into account the increased value of the properties after the work was done.
He said one of the properties had been bought for $847,000 and was later sold for more than $1.2 million - a net gain of over $300,000.
Field's lawyer Matthew Karam said the Crown's figures for work done on the properties were "inflated".
He said the hours worked were over-estimated and in one case were almost three times what the worker estimated himself.
Mr Karam also said the work in Samoa was estimated to be worth an hourly rate of $30 when the Samoan minimum wage was between $1 and $2 an hour.
He said there was no need for the courts to send a message of deterrence and denunciation as his client had already been sentenced and had lost his political career.
"His ability to earn an income in New Zealand - given the extreme fall from grace - is significant."
Justice Rodney Hansen has reserved his decision.
Outside court, Field told waiting reporters that he could not answer questions because the matter was still before the courts.
Field was charged after then prime minister Helen Clark ordered an inquiry into allegations he had traded immigration favours for tiling, painting or plastering work on his properties in New Zealand and Samoa.
He was freed from prison after serving a third of his sentence in October last year.
At the time, Field said: "Despite what's happened my conscience is clear. I never have at any time had the intention to break any law and, in God's good time, I believe that the full truth of things will be revealed and exposed."
Ten days after his release, five judges from the Supreme Court unanimously dismissed his appeal.
- APNZ