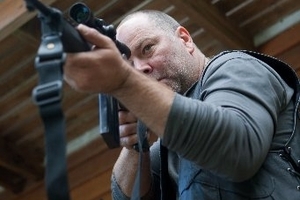 Stories making headlines across New Zealand at Noon include the TV dramatisation of the Napier siege, some ask is a blonde Miss Universe and a blonde MasterChef winner a coincidence or something far more sinister and Hairy Maclary from Donaldson's Dairy is to be immortalised - and possibly about to meet royalty.
Those who witnessed the Napier siege in 2009 say the makers of TV film 'Siege' got it right.
It would appear Wanganui women have no desire to be blonde.
What do the Prince of Wales and Duchess of Cornwall have in common with Hairy Maclary from Donaldson's Dairy?
A Te Puke 9-year-old, Issac Olsen, watched in horror as a "big and brown" dog chomped his ball.
Here's someone who actually moved from Australia to live in New Zealand.
Businessman Gregory Alexander Hutt bribed a senior ACC employee with $160,000 in return for constructing and leasing a building in Whangarei, but he won't go to prison.
Parents at a Northland high school are being warned to "keep a vigilant look out" for suicide warning signs.
A Rotorua man caught driving with a breath-alcohol level almost twice the legal limit told police he was better at driving drunk than his friends.
3-year-old Whakatane boy Chace Topperwien died on Friday from a rare and aggressive form of leukaemia.
A barking dog that saved the lives of a Turangi family may have perished in the blaze.
A woman has been wrongfully convicted of drink-driving after a Rotorua woman used her name.
Nearly seven babies a day were born at Tauranga Hospital in May.
The body of a man has been found in Paeroa this morning.
A 17-year-old Masterton teen allegedly rammed a police patrol vehicle by reversing into it, then took off, did a u-turn and rammed into a second police car that had arrived at the scene. An 18-year-old Napier teen has been tearing around Hawke's Bay roads at 185km/h with police in hot pursuit.
Meanwhile a Tauranga 16 year old has allegedly kicked a man on the ground almost senseless.
An Otangarei family say they will not leave their Housing New Zealand home of 25 years despite an eviction notice telling them they have to get out today.
There has been an "ugly parent" incident at Napier's Park Island.
In the Wairarapa, this sheep had to be put down after it was attacked by killer dogs. Meanwhile the man gored by a bull in rural Masterton is now in a stable condition. And the rabid pitbull is still on the lose in Masterton.
Meanwhile in Christchurch a dairy employee being held up by an armed robber suddenly realised he wasn't carrying a gun but was instead armed with a beer bottle.
Ashburton Library staff are worried about a growing number of young children they are forced to put out on the street, unsupervised, every night.
Dying man Tai Raumati organised a winter wood supply for his family before he died to keep them warm during winter, but then someone stole it.
Emergency services have been dealing with multiple crashes around Dunedin.
A protest aimed at protecting New Zealand for future generations attracted about 1000 people in Dunedin on Saturday.
Oamaru's penny-farthing enthusiasts are in for a special treat.
Hokitika Catholics are "shell-shocked" after their beloved St Mary's Church was suddenly closed.
Top trending topics on Twitter in NZ at noon were: #Siege, #ImSingleBecause, #WeLoveReeceAndSAFM, Happy Father's Day, Ali Williams, Winston Peters, US Open, Rodney King, Greek, and Luke.