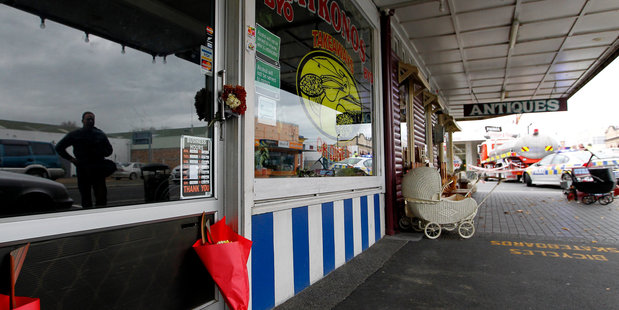 Waikato Police investigating the sudden death of a man in Paeroa are awaiting the results of a scene examination and post-mortem, and are seeking the public's help for information.
Police cordons are still in place after the discovery of the body of the man, believed to be in his early 50s, this morning. Police held a press conference this afternoon.
Multiple people in Paeroa have named the victim as Jordan Voudouris, who owns Mykonos Pizza and Pasta. He was found lying face down on a driveway at the rear of the premises about 6.30am. Tributes were being left to Voudouris on the restaurant's Facebook page.
"...My friend, everyone's mate, our friend, your friend, Paeroa's cultural icon, your advice wisdom and smile we remember, please go to heaven," wrote Yamous Yamousari.
"You always had a smile for all who entered your store," wrote Adeline Sveistrup.
Rural field crime supervisor Detective Senior Sergeant Mike Whitehead said police and senior staff were called to the address shortly after 6am.
"One of the priorities for investigators right now is completing a formal identification of the man," Whitehead said in a statement.
Mr. Whitehead said that like any situations of this nature, "the man's death would be treated as suspicious."
A post-mortem of the man is scheduled for Auckland tomorrow.
Several staff members have been gathered outside this morning, and like many in the small Waikato town, are clearly shocked at the death of the popular man.
Tatiana Taukiri last saw her boss when leaving work at 9pm last night. She and her friends were fighting back tears as they described Mr Voudouris, a father of three, as a kind man who often let people who did not have enough money skip their bills.
Mr. Whitehead has said investigators want to hear from anyone who had seen or heard anything suspicious in Paeroa earlier this morning. If you have information, ring 07 862 8744.
- APNZ