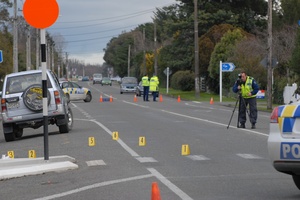 A stretch of Carterton road where a pedestrian was struck and killed has been described by a coroner as "one of the worst in the country".
Coroner Ian Smith was speaking at an inquest yesterday into the death of Carterton woman Patricia (Trish) Engel in July 2009.
Mrs Engel was on or near a pedestrian crossing in High St South when she was struck by a car and fatally injured.
Mr Smith said he often drove through Carterton, using the stretch of road where Mrs Engel was struck and that "it must be one of the worst in the country".
Mrs Engel's husband, Michael Engel, afterwards agreed with the coroner's comments and said it would be ideal to have an alternative route at the southern entrance to the town.
The inquest yesterday heard from retired Carterton resident Leopold Heukels, the man driving the 4X4 vehicle that struck Mrs Engel.
A charge of careless driving causing death against Mr Heukels was found not proved at a defended hearing in Masterton last year.
Mr Heukels was brought to the brink of tears as he told the inquest he had not seen Mrs Engel before she was struck.
"I saw nothing, absolutely nothing. I heard a bang and got out of my vehicle. I thought I had hit the lady," Mr Heukels told the court. "It's happened, it's happened. I wish I could bring the clock back."
Sergeant Peter Sowter, head of the Wellington regional serious crash unit, told the hearing there had been six reported traffic incidents at the crossing from 2002 to 2011, including another incident involving a pedestrian and the death of Mrs Engel.
The other incidents involved cars waiting at the crossing that had been struck nose-to-tail by other vehicles.
The crossing is in a 50km/h zone, which changes to a 100km/h zone about 700m south of the crossing. About 12,500 vehicles travel the road daily.
Mr Sowter said there were no witnesses to the fatal collision and Mr Heukels had told police at the time and since that he had been travelling at 50km/h and had not seen Mrs Engel until after she was struck.
Signs were in place warning motorists they were approaching a crossing, and visibility was clear and unobstructed on the day Mrs Engel died, he said.
The law at the time obliged drivers to yield to pedestrians on a crossing, but a law change in November 2009 had expanded that to include pedestrians approaching a crossing as well.
Mr Smith said the inquest was not called to apportion blame, but to improve road safety.
He said his role was to ensure "this doesn't happen to anyone else".
He reserved his decision.
For more articles from this region, go to Wairarapa Times-Age