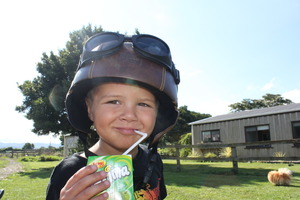 Hamilton toddler Chace Topperwien has died after a brave battle with leukaemia.
The three-year-old was diagnosed with a rare and aggressive form of the disease just before his second birthday.
In April, Chace and his parents Ryan and Keri Topperwien flew to the United Kingdom to undergo a drug trial at the Royal Marsden Hospital near London, but it was unsuccessful.
Mrs Topperwien announced the sad news on the toddler's Facebook fundraising page last night.
"Our beautiful bubba, Chace Eriki Topperwien, passed away as peacefully as we could have ever wished for this afternoon in between his mummy and daddy in our bed. sleep in heavenly peace beautiful boy, we love you with all our hearts. Time to go play with great Koko now, he has the meanest hammers and tools, and we told him to have the coolest go kart waiting for you. No more mamae darling, time for a sleep now."
The announcement had received 840 comments in nine hours.
The family had hoped the UK treatment would fight the cancer long enough for Chace to have a second bone marrow transplant, his best chance of survival.
"There is no chance of another transplant," Mrs Topperwien told the Herald earlier this month.
"It would be doomed to failure since he has too much leukaemic cells."
Though there was nothing more medically that could be done for Chace, the couple used alternative medicines which they said had boosted the youngster's energy.
Mr and Mrs Topperwien put their professional lives on hold when Chace was diagnosed, and said they were glad to be spending each day with their boy.
"I'm sure one day we will look back on it and be glad we literally travelled to the ends of the earth for Chace.
"It didn't work, but we tried everything and that's all we have the power to do, try."
For more information on bone marrow donation visit bonemarrow.org.nz
- APNZ