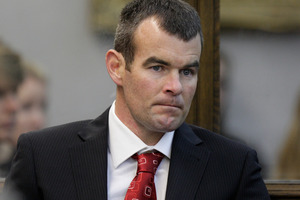 Murder accused Ewen Macdonald told police he first heard Scott Guy had died of a gunshot wound more than a day after the murder, contradicting previous evidence given in the High Court at Wellington.
Macdonald, 32, has denied shooting and killing Mr Guy, 31, on July 8, 2010 after growing tensions over the future of the family farm in Feilding.
At his murder trial this morning Detective Graeme Parsons continued to read out a transcript of a statement Macdonald gave police over three days in the month after Mr Guy's death.
In it he laid out in great detail his life in the months before and days after Mr Guy's death - including when he learnt his brother-in-law had been shot.
Macdonald's police statement said it was not until July 9 that he found out Mr Guy had been killed by a gunshot and remembered his father-in-law, Bryan Guy, being the first person to say he had been shot, rather than stabbed.
Evidence given by Scott Guy's sister, Nikki Guy, earlier in the trial said Macdonald told her and others at the police cordon on the morning of July 8 that Mr Guy had been shot - something the crown alleges only the killer would have known until police confirmed the method of death the next day.
But in a statement to police in the month following Mr Guy's death he said the first time he heard the news was on the day after his death.
Bryan Guy said he had been shot, and Macdonald thought Bryan Guy would have known because the police would have told him.
He remembered even on the night Mr Guy was found dead, Bryan Guy was not convinced his son's throat had been cut.
In his statement to police he also recalled how a trip to a farm conference in Invercargill with Mr Guy the month before he was killed had gone well and both men came away from it "on a bit of a high".
"We had a number of talks about how the farm was going ... we were both on the same page about ideas. It was about making the farm work smarter, not harder."
The trial has previously heard that the men were divided over how the farm should be run.
In the statement Macdonald also laid out who on the farm owned guns.
He said he owned one gun, a rifle his father had given him. Every other gun he used he borrowed from his father.
Until Mr Guy's death Macdonald kept his rifle in a safe in his garage, but it was "not that strong", he told police.
Following Mr Guy's death he decided to put his rifle in his father Bryan Guy's gun safe.
He told police he did not know where Bryan Guy kept ammunition or the key to the safe until after Mr Guy's death.
Bryan Guy previously told the trial his gun wasn't locked away when Scott Guy was killed, despite previously telling police it was.
Macdonald also laid out in detail the night before and morning of Mr Guy's death, starting with watching Shortland Street with his wife, Anna, the night prior.
In bed, Macdonald then watched Grey's Anatomy or Criminal Minds - he couldn't remember which - before going to sleep.
He told police his radio alarm woke him at 4.50am. He got out of bed, but did not turn the light on, and walked into the bedroom's walk-in wardrobe.
After dressing, he returned to the bedroom before walking down the hallway, putting on his shoes and leaving his house.
"I could see that Scott's ute was not there.
"In my mind I thought that Scott might have slept in so I though I must hurry up and get out there."
Once he arrived at work he joked to the other farm workers about Scott being "sleeping beauty" after believing he had slept in.
He then got started with his morning duties, which he laid out in great detail to police in his statement.
At 7.15am he received a call from Bruce Johnstone.
"[He said] there has been an accident, something has happened to Scotty ... He's dead, he's dead mate."
Macdonald thought he replied something like "what, are you joking?".
He then drove to the crime scene, where he was stopped by police from getting closer than six metres from the body.
He could see blood around Mr Guy's head and told police he "did not want to look any more".
He also told police, in his statement, that he remembered the gate was closed, which was unusual.
The crown alleges Macdonald cornered Mr Guy, who had to get out of his ute to open the gate, in the dark of the night before shooting him dead.
Reading out Macdonald's statement to the jury took all morning, with Macdonald sitting quietly in the dock with his head bowed through the entirety of it.
The trial before Justice Simon France and a jury of 11 will resume on Monday morning when the jury is due to be shown a video of Macdonald's interview with police.

- APNZ