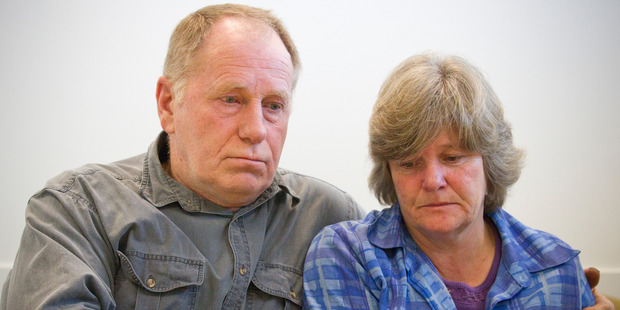 The last message Javed Mills' family got from him said he was living in Wellington with friends and would not be home for Christmas in 2009.
He had left home that year hoping to realise his dream of becoming a musician. He asked his family for space, and they respected that, waiting for him to get in touch when he was ready.
So they were pleased when it appeared he had sent a message on the social networking site Bebo.
But last week, police delivered the devastating news that they believed Mr Mills had been killed in 2009 and the messages were written by someone trying to make it seem he was still alive.
Mr Mills' remains were found at an abandoned Mt Wellington property last September. They had been placed there midway through last year.
Police believe the 25-year-old died after an altercation at a nearby property in 2009. A man he lived with for a time has been charged with interfering with human remains, and further charges are likely.
Javed's mother, Lichelle Mills, yesterday spoke for the first time about her elder son's death.
She said Javed was passionate about music, responsible, respectful and a cherished family member.
He was loyal, a talented self-taught guitarist, and had a personality that drew people in.
She said her family, including stepfather Peter Mair, younger brother Tarek Rahman and his partner, Jenny Nguyen, were deceived into thinking "Javi" was alive and well.
On December 22, a message was posted on Miss Nguyen's Bebo page. It was sent from Mr Mills' Bebo account.
She had been messaging him, asking him to come home for Christmas and to get in touch, as his family were worried about him.
"I'm in the capital for xmas and new year its very nice down here ... . Just needed a fresh start for abit," the reply said. "Have a good xmas n don't annoy my bro too much over the holidays lol Laters."
On January 6, 2010, a second message was posted on Miss Nguyen's page, apparently from Mr Mills.
"My fresh start is going good! I have a group of bogans to hang out with already, priceless! Say hi to my bro for me and im getting a new vodafone soon," it said.
Miss Nguyen replied on January 13, but received no response.
Police are investigating who sent the messages, but do not believe it was Mr Mills. They have not ruled out that it was the man charged.
"The last time I saw Javed was in April 2009," Mrs Mills told the Herald.
"He was living with us and he said he wanted to pursue his dream of being a musician. That was one of the last things he said to me. There wasn't a moment in his life since he started playing the guitar that he wanted to do anything else. That is what filled his days and nights."
Mrs Mills said her son, who attended Howick College, then studied music at university for a year, told her he wanted some space, "so he could find himself and decide what sort of artist he wanted to be".
"We were honouring his wishes and respecting that space."
He did not have a cellphone and Mrs Mills does not use email, so she just waited for him to call. She did not worry about him as he had always been responsible, sensible and "good".
Said Miss Nguyen: "We all believed he was in Wellington because of a message posted on his Bebo site."
Then this month, detectives came knocking.
"I told them it can't be Javed, he's in Wellington," Mrs Mills said. "I was just numb, in denial and disbelief."
She hoped there had been a mistake, and was devastated when confirmation came.
The family will farewell Mr Mills, but do not know when his remains will be released to them.
They said that they understood the police were still working on the investigation, and that officers had been "absolutely awesome".
"We just want him home and we don't really mind waiting at the moment," said Miss Nguyen.
Mr Mair: "We just want justice for him."
Mr Mills was raised in Maraetai. He was born Javed Abdula Rahman - his biological father's last name - but changed his name to Javed Frazer Mills when he turned 18 in honour of his maternal grandfather.
He was close to Mrs Mills' father and spent a lot of time with him, keeping him company when he was dying of cancer.
Mrs Mills said her son wanted to change his middle and last name in honour of his grandfather after he died, but waited until he was 18 so he did not need to get permission from his father - who he had not seen since he was 4.
"For his 18th birthday present he asked for his name to be changed. He was extremely proud of his new name and told a lot of people how happy he was," Mrs Mills said.
She described her son, nicknamed Little Man because he was not tall, as a happy kid with a passion for music and reading. He made good friends, and was respectful and responsible.
"He was just really likeable," said Mrs Mills. "He got on well with everyone. He was a really loveable boy."
POSTINGS THAT DECEIVED FAMILY
Two messages posted on social network site Bebo made Javed Mills' family believe he was alive. Police say they were written by someone wanting to make it appear he was alive.
Have a good xmas n don't annoy my bro too much over the holidays lol.
December 22, 2009
My fresh start is going good! I have a group of bogans to hang out with already.
January 6, 2010