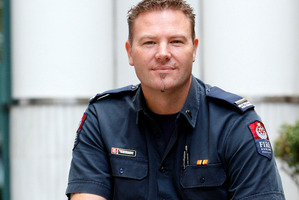 As Blair Marriott lay in the middle of the road, both arms shattered and looking at half of his leg lying metres away, he knew he would die unless he could stop bleeding.
And without blood transfusions after being rescued, he would probably not be here today.
The firefighter was riding his motorbike around a sweeping bend on a Wellington highway 17 months ago when a young woman drifting in a stolen car slammed into him head-on.
Mr Marriott was travelling at 53km/h, she was doing 84km/h.
"I got smacked into the bumper. I then turned slightly right into the car, which took my leg off below the knee on the right-hand side.
"My head and shoulders went into the windshield, which pushed me about four metres straight up into the air, then I came down with my hands out, which broke my right cranial bone and shattered both my wrists.
"In that same hit, I broke the lower part of my left leg in five places, broke my ankle, split my left femur and broke my big toe.
"I was lying on the ground, then sat up and saw my leg off and thought, 'That doesn't look too good.' It had blood pouring out of it."
But the only thing that hurt, he said, was his broken big toe.
At the time of the crash, Mr Marriott had spent 14 years in the Fire Service and so as he lay in the middle of the road he knew that if he didn't do something to stop the bleeding he would die.
He screamed for help and the people who came running found a belt to tie his leg off above the knee.
"I then got someone else's cellphone and dialled my wife's number, or rather fiancee at the time ... I rang her, I said, 'I've been hit - I've lost my right leg,' and told her to meet me at the hospital.
"Then, because we were getting married within a few months, I said, 'Sorry, I won't be able to dance with you at our wedding'."
Mr Marriott spent four days in intensive care, 42 days in total in hospital and received 14 units of blood.
Doctors were unable to reattach his leg and amputated more of what was left above the knee. He was unable to return to work as a fireman and works in the administration team at the Fire Service's headquarters.
Now, on World Blood Donor Day, Mr Marriott is urging people to give blood because they never know when they or their loved ones might need it.
"It's like insurance, you never think you'll need it until you do - you never think you'll need blood until you do.
"You never know what's going to happen."
Only 4 per cent of adults who are eligible to give blood do so while 42,000 patients are given blood each year.
This month, the Blood Service is desperately looking for 2000 people to register to donate to keep the donor database in steady, good health.
Mr Marriott used to donate quite a lot blood during college, but slowed once he left because he got a number of tattoos and people are not allowed to give blood within six months of being inked. But now, as soon as he's off medication, he is eager to donate again.
LIFEBLOOD
* About 142,000 units of blood are donated every year.
* Only 4 per cent of eligible adults give blood.
* About 470ml of blood, equal to 1.5 cans of soft drink, are taken at each donation.
* A donation can be separated into several components - red blood cells, platelets and plasma.
* The body will replace fluids lost in 24 hours. Red cells will be replaced in six to eight weeks and people can donate again after three months.
TO DONATE
Register at www.nzblood.co.nz or call 0800 GIVE BLOOD