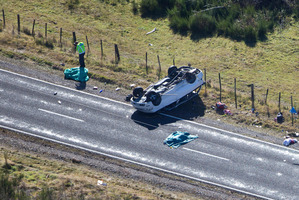 Friends, family and supporters of American student Stephen John Houseman sat together in silence at court after he was convicted over a fatal crash that killed three of his friends near Turangi.
The 20-year-old Boston University student was convicted and discharged but disqualified from driving for six months and ordered to pay court costs of $132 over the crash last month.
With his bandaged broken arm visible, he sat leaning his head on the shoulder of a female family member for support at Auckland District Court this morning.
He pleaded guilty to three charges of careless driving causing the of fellow students Daniela Rosanna Lekhno, 20, Roch Jauberty, 21, and Austin Brashears, 21.
The trio died after being thrown from a van driven by Houseman, which drifted off State Highway 46 before being overcorrected and rolling three times near Rangipo.
Houseman also pleaded guilty to four counts of careless driving causing injury to Kathy Moldawer, Alys McAlphine, Emily Melton and Meg Theriault.
After he lost control of the van and it rolled, four passengers who were not wearing seatbelts were thrown from the vehicle and landed on the road.
The police summary of facts said Houseman had asked his passengers several times during the journey to wear their seatbelts.
Houseman's lawyer Marie Dyhrberg had sought a discharge without conviction, arguing his careless driving was "at the very low end'' and the consequences of a conviction outweighed the offence. The victims' families supported that, she said.
"This is someone that I can safely say enjoys, and still does despite this terrible tragedy, enjoys a reputation of being very responsible, very conscious of road safety and exhibits great leadership qualities,'' she said.
He was passionate about pursuing a career in hospitality that would involve international travel, and a conviction was likely to impede this, she said.
Houseman had shown genuine remorse about the incident, which he still had nightmares about and still received counselling for, Ms Dyhrberg said.
His family, along those of the victims and and representatives of AUT, the US consulate and the Langham Hotel were gathered at court to support him.
Judge Brooke Gibson acknowledged Houseman had "very good future prospects'', and was very remorseful for the incident.
"He'll be emotionally scarred about what happened for the rest of his life.''
"It was a classic careless driving case where the carelessness was slight but the outcome was massive.''
Houseman had been studying hospitality administration and came to New Zealand on a student exchange programme.
On May 12 he was travelling as part of a group of 16 who were on SH 46 heading to the Tongariro Crossing, and he was driving one of the vehicles.
After leaving a slight bend, the vehicle veered left and onto the gravel, said the police summary of facts.
He then overcorrected, losing control, and the van rolled several times before landing on its roof.
Houseman was not able to explain why the vehicle left the road, causing him to lose control, said the summary.
Miss Theriault, 21, one of the worst-injured survivors of the road smash, spoke her first words after waking from a coma on May 18, the same day Houseman was charged.
Miss Theriault told her father Todd she loved him and asked nurses at Waikato Hospital for her "mummy''.
Mr Theriault and his wife Deb flew to their daughter's side following the accident and said they were inundated with support from throughout New Zealand and the United States.
In a statement shortly afterwards the couple said they had met Houseman's parents and understood their pain.
"We feel their pain and he now has a journey of recovery much like our daughter does.
"We understand there needs to be a court process and we support it.
"But that could have been any one of our kids at the wheel. This was an accident - all our kids were pursuing their dream. Nobody was intentionally doing anything that would harm anyone.''