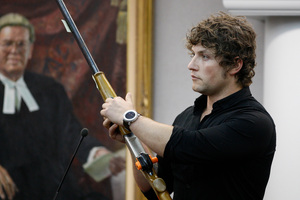 The Guy family had been warned that working so closely with each other could have problems, a High Court jury was told yesterday.
Regular meetings were held to try to keep communication levels up but usually Ewen Macdonald, who had married into the family, stayed silent while his wife Anna dealt with any conflict.
However, family members all knew of his frustrations with Scott Guy, his brother-in-law, business partner and rival.
Macdonald, 32, is on trial in the High Court at Wellington, charged with firing the shotgun blast that killed Mr Guy while he was on his way to the milking shed in pre-dawn darkness.
He died almost instantly from a wound to his throat.
Macdonald has denied the murder charge, and his legal team have rejected Crown claims it was jealously and fear of losing his place on the farm that provoked him into killing Mr Guy.
Mr Guy's widow Kylee will give evidence on their relationship when she takes to the witness box for the second time today.
His sister Anna Macdonald, the wife of the accused, and father Bryan Guy will also give evidence for a second time.
Yesterday Scott's mother, Joanne Guy, told the court that farm consultant David Beca had warned the family that working together could be problematic and advised caution.
She and husband Bryan had an 80 per cent shareholding in the farm, Scott and his wife Kylee had 10 per cent and Ewen and Anna Macdonald the remaining 10 per cent.
Mrs Guy said during group meetings Macdonald - "a strong silent" type - usually left it to his wife to deal with any controversy.
"Often he would go through Anna so she would fire up and say something, rather than, he wouldn't say it himself."
But Scott Guy was more direct. During one meeting he read aloud a letter about his desire to inherit the farm - something his parents rejected.
"Anna reacted, she fired up," Mrs Guy said. "It must have been a bit about Ewen and Scott ... She said it was far too harsh."
She couldn't remember if Macdonald said anything at that meeting, but she knew of his annoyance at some of Scott's work habits, such as going home early to help Kylee with their young son.
"He thought he should be on the farm."
Days before their son was murdered, Jo and Bryan Guy attended a farm management conference where they came up with plans to develop a lake and housing on the farm.
The proposal excited Scott Guy, but worried Macdonald.
"Anna had said to us, 'Ewen is a bit worried that the dairy farm side of the business would fall off'."
But she and her husband felt the changes would benefit all the family, including Macdonald.
She did not know if Bryan Guy had ever spoken to Macdonald to allay his concerns.
In cross-examination by Macdonald's lawyer, Greg King, Mrs Guy said there was an undercurrent of tension between her son and Macdonald. She felt none of the men on the farm was speaking enough.
Scott's sister, Nikki Guy, said she noticed the difference between Macdonald and her brother when she moved back to the farm.
"When Scott came back they were both equals, but the farm wasn't big enough for them to have the same, equal roles."
Ms Guy said Scott and Kylee Guy felt almost "terrorised" by the vandalism of their new home and the burning of a home that was waiting to be moved off their property.
The Crown says Macdonald committed those acts to scare Kylee Guy away from the farm.
Callum Guy, the youngest sibling, said Scott confided in him when he was unhappy with the way things were going.
"I think he felt Ewen was taking over the farm."
He told the court of a comment Macdonald made to him after Scott was killed in which he said police had asked him if he knew who had killed Scott.
"He sort of laughed about it, saying they were hopeless and had no idea."
But he told Mr King he didn't think the remark was sinister at the time and mentioned it to police only after Macdonald was arrested.
Callum and Nikki Guy said they had not seen or heard about any serious aggression between Macdonald and their brother apart from a confrontation at a family dinner.
That was caused by a comment Macdonald made about Mr Guy leaving the farm early and resulted in Mr Guy leaving angrily.
Callum Guy spoke of hunting trips he used to go on with Macdonald in which they used mostly shotguns.
He agreed with a Crown suggestion Macdonald was a "good shot" while they were hunting.
He was asked to break down and reassemble the shotgun kept on the farm to show the jury how easy it was to do.
The Crown says the shotgun cannot be excluded as the murder weapon.