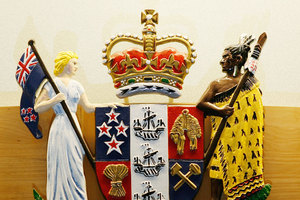 A man has gone on trial in the Wanganui District Court for allegedly indulging what the Crown described as an "unhealthy sexual interest in young girls".
The man, who has name suppression, is appearing before Judge David Cameron on two counts of indecent assault on a child under 12 and four counts of sexual violation.
In his opening address to the jury, Crown prosecutor Harry Mallalieu said the accused had an "unhealthy sexual interest in girls", which began with inappropriate touching of two victims, starting when they were both aged six, and escalated over time from 2008-2011.
The girls were interviewed in 2011, where they both described incidents where the man touched them inappropriately while in bed.
Just over a month later, the man was interviewed by police. He told them he had been expecting them to contact him, having heard allegations had been made.
Mr Mallalieu said the allegations of the children were corroborated by the man to some extent, because he admitted to touching one girl around the groin while towel-drying her leg after a shower, but said it was in a totally different situation to that which was claimed, and it was innocent.
He also admitted to pinching their bottoms as part of a cuddle, but maintained there was nothing indecent about it, and it also was innocent.
Mr Mallalieu told the jury critical evidence would come from the two girls themselves, and they should focus on their reliability and credibility.
He urged them to think in context of the victims being children and how the offending occurred - when they were in a state of semi-sleep.
Defence counsel Roger Crowley made a short opening address outlining the issues for the jury. It was the defence position that the man did not sexually violate or indecently assault either girl.
He told the jury the allegations against the man were "very easy" to make but "almost impossible" to disprove, because there were no witnesses or recordings.
He told the jury they would see in the girls' police video interview they would say something that didn't make any sense, which pointed to the child fabricating the evidence.
"As difficult as it is to make this submission ... Kids do tell lies. We all know that."
Mr Crowley said the defendant was an "upstanding member of the community", who had never been in trouble before, and the allegations had come out of the blue.
He too told the jury to be very careful listening to the evidence and in assessing the credibility of the children.
The trial is expected to take four days.

For more articles from this region, go to Wanganui Chronicle