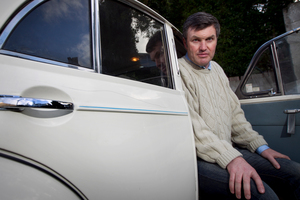 Just when Tim Stevens thought he'd had enough bad news - a "low life" vandal added to his troubles.
The Devonport man was admitted to hospital last week, and then had to attend his cousin's funeral. But to add insult to injury, while he was recovering in his hospital bed, vandals keyed every panel on a car that meant more to him than any other vehicle.
This, just months after the death of his ex-wife and taking on fulltime care of their children.
The 1961 Morris Minor was scratched from bumper to bumper and across the bonnet after he left it in the North Shore Hospital parking building. About $5000 of damage was done to the car, which was his grandmother's.
Mr Stevens said the car had been in storage for about 20 years before he got it going again and brought it to Auckland. It was in original and immaculate condition - until last week.
"I learned to drive in it, my grandmother taught me how to drive in it.
So it's really special to me," he said.
"To do such a thoughtless thing while someone is recovering in hospital, in a time of need, is really horrible.
"It's a real downer at the end of what's been a tumultuous time. I'm really cheesed off."
Mr Stevens said he purposely parked the car near the lifts in the building as it was a well-lit area and he assumed, because of the numbers of people going in and out, that there would be security cameras. The hospital has reviewed its footage but said the car was not in any of the shots.
Mr Stevens said he was concerned about the person or people responsible for the damage.
"It shows a total disregard for your fellow man - especially at a hospital."
The timing was also terrible.
"The car was such an institution in our family. It's a real connection to my childhood and my family.
"With me sick and ailing and all the death in the family, just having that special connection to the family is something really important to me at the moment. To do what they've done is just the lowest of the low."
If you have any information, contact the North Shore police.