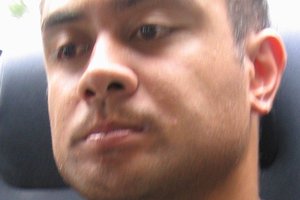 The man who allegedly shot at a police officer from point blank range may be hiding out in motels around Auckland, police say.
Murray Toleafoa, a 30-year-old Samoan man with gang connections, sparked a manhunt when he allegedly shot at an officer out of a car window in the early hours of Friday morning.
His alleged co-offender Nadia Ball, 20, appeared on one charge of possessing a pistol in Auckland District Court this morning.
Detective Inspector Scott Beard this afternoon said investigators had evidence suggesting Toleafoa had been hiding out in motels.
He warned motel workers to be vigilant when taking bookings as there was an armed gunman on the run.
"For the sake of the safety of moteliers, their families and law-abiding guests, we are reiterating our appeal to Mr Toleafoa to hand himself in to police and end this phase of the investigation safely."
Tolofea allegedly fired on the 40-year-old police officer as he was taking the keys off a car driver on Mayoral Drive at 1am on Friday.
Witnesses described the gun used as looking similar to a police-issue Glock.
The car drove off at high speed and was recovered an hour later in nearby Mt Eden.
Police this morning said they were closing in on Toleafoa.
Mr Beard yesterday warned that anyone hiding Toleafoa faced a criminal investigation.
"There's someone out there ... who knows where Murray Toleafoa is," Mr Beard said.
"Ideally what we want is for Murray Toleafoa to hand himself in to the police. We will not stop hunting him until he is found."
Border authorities are on alert to prevent Toleafoa leaving the country as up to 20 detectives continue the search, which so far has focussed on Auckland.
Detectives have located numerous pieces of evidence including the shrapnel from the bullet fired on Mayoral Drive and a loaded bullet magazine found in a home near where the getaway car was abandoned.
The items are being forensically examined.
Police have warned against approaching Toleafoa, who they say could be armed and dangerous.
He is affiliated with the Tribesmen motorcycle gang.
- APNZ