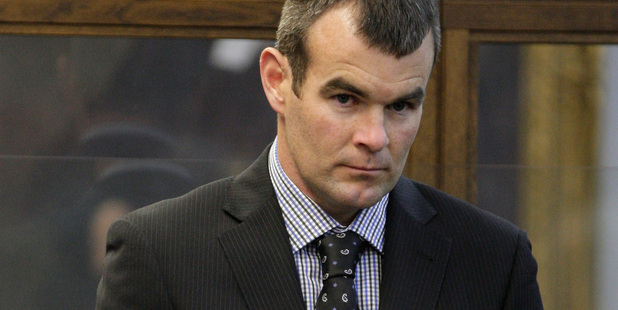 Farm workers who spoke to Ewen Macdonald on the day he allegedly killed his brother-in-law Scott Guy gave conflicting evidence today about who told them he had been shot.
Macdonald, 32, has denied killing Mr Guy, 31, in his driveway as he left to do the milking on the family farm near Feilding early on July 8, 2010.
The Crown alleges only the killer could have known for certain that Mr Guy had been shot before it was confirmed by police.
Assistant farm manager Simon Asplin, who was one of three men rostered to do the milking with Mr Guy on the morning he was killed, took to the witness stand in the High Court at Wellington today for the second time.
He stood by his evidence last week that Matthew Ireland, who had been doing work experience on the farm, had told him that morning that Mr Guy had been shot.
When defence lawyer Greg King put it to him that Mr Ireland had denied doing so, Mr Asplin was adamant he had.
"I still believe he did ... I'm sure he did.''
But Mr Ireland today denied he had told Mr Asplin that Mr Guy had been shot.
He recounted the morning Mr Guy - the man he wanted to be "exactly like'' - was killed.
Mr Ireland said he arrived first at the farm workshop about 4.40am.
Mr Guy was rostered on first, but it was Macdonald who showed up next.
"He just looked like he'd just woken up,'' Mr Ireland said.
"I asked if Scotty's slept in and we had a bit of a laugh about it ... I didn't say anything, I just laughed.''
Mr Ireland twice asked if he should go to Mr Guy's house to see where he was, but Macdonald told him to "leave it'' because he had sent him a text and called him.
He learned Mr Guy had died later that morning, but kept on working in disbelief.
"I said in my mind if I carry on working, Scott might pop up.''
Part-time farm worker Arthur Whittaker, also known as BJ Worthington, said he spoke to Macdonald on the afternoon Mr Guy was killed.
"He said someone shot him.''
Under cross-examination from Mr King, Mr Worthington said he was "positive'' that Macdonald had said he was shot, rather than got.
On a later date, Mr Worthington mentioned to Macdonald that whoever had killed Scott was a coward, to which Macdonald nodded.
"He said that when they finally did it [convicted someone] they should bring back the death penalty because a life for a life seems fair.''
Macdonald said whoever had killed Mr Guy had probably fled overseas.
The trial's second week began today with evidence about Macdonald's relationship with Mr Guy, which is crucial in establishing a motive.
The Crown alleges Macdonald killed Mr Guy after growing tensions over the future of the farm.
Andrew Short, who began working on the farm part-time during high school, said the relationship between the men was "hot and cold''.
"Scott sometimes had his own opinion about Ewen but they still worked together.''
He recalled a time he visited the farm and asked after Mr Guy, to which Macdonald said he was "probably skiving off somewhere''.
Mr Short said that kind of comment was not unusual and the men often had different opinions on how the farm should be run.
The two men were often competing with one another.
Mr Short said when one got a tattoo or new car, the other did too.
"Scott and Ewen had competition between each other ... competition to be better.''
Dairy assessor and trainer Richard Cash said he met Mr Guy just once, when he was training another worker at the farm.
Learning he was farm owner Bryan Guy's son, he said something about Scott Guy taking over the farm.
"Ewen just said, `Well he thinks he is.' That was it and he walked off,'' Mr Cash said.
"He wasn't angry but he wasn't happy with the comment I made.''
Farm consultant Simon Redmond said the relationship between Macdonald and Mr Guy "soured'' after the accused married Mr Guy's sister Anna.
"Probably as Ewen became more the manager and took more responsibility, it started to drift apart.''
Farm worker Jackson Gilbert said there was rivalry between Macdonald and Mr Guy.
"I could definitely tell there was a bit of rivalry between them ... just comments that were said from Ewen sometimes, not very often.''
He recalled one time Mr Guy and his brother Callum returned from work on the farm because it was too wet.
Macdonald had jokingly referred to Mr Guy as a cowboy and farmer of the year.
Mr Asplin also gave evidence on the men's relationship, saying he and Macdonald discussed Mr Guy's work ethic from time to time.
"Both of us occasionally wondered what he did sometimes.''
The trial continues before Justice Simon France and a jury of 11.
- APNZ