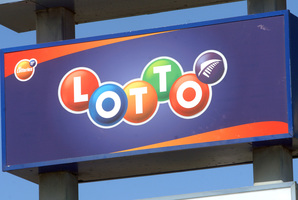 He's $10 million richer - and he had no idea "how I'm going to tell the wife".
Minutes after discovering his $10,333,000 windfall, New Zealand's newest Powerball winner admitted he was "in shock".
The man, who asked to remain anonymous "while all this sinks in", spoke to the Hawke's Bay Today newspaper after checking his ticket at Napier's Pak'n Save and realising he'd won the $333,333 first division.
"I put the ticket in to check it and it said, 'First division' - and all I thought then I was one of the three who had got it."
It wasn't until the 50-year-old, who described himself as a family man with a grandchild, handed his ticket to one of the Lotto counter staff that he was told he could add $10 million to that. "I'd got the Powerball."
The man was checking his ticket when a Lotto regional representative arrived to present shop staff with a trophy for selling the winning ticket.
The ticket was a "random" and modest Lucky Dip, which he bought after deciding to walk to the supermarket "for some exercise".
"I've been buying Lotto tickets on a fairly regular basis for 25 years," he said. "The previous biggest prize I got was $82 on a Big Wednesday ticket."
After filling out forms, he spoke to a delighted Pak'n Save customer services manager, Kathy Osterfield.
"This is just fantastic," Mrs Osterfield said. "He is a really nice guy and we are so pleased for him."
The man said he was pleased he had walked to the supermarket, as he needed the time during the walk back home to think about what had happened and to let it all sink in.
"No one in the family knows, and I don't know how I'm going to tell my wife ... She's out working at the moment."
Apart from taking his wife to London for a holiday, he had no idea what he would do with the winnings.
"I really don't know. I'll probably give up work but I will go into work [today] ... if I can hold myself together. My heart's just racing."
Mrs Osterfield said the Pak'n Save staff who processed the big ticket did so quietly and discreetly, following strict Lotto protocols, but were also excited about the win.
"It's a real 'wow' thing for everyone," she said.
NZ Lotteries chief executive Wayne Pickup said there had been an "amazing run of winners in 2012".
"Since Trevor in Te Kauwhata won $26 million in late March, we've also had a $5.5 million winner in Christchurch and a $5.3 million [winner] from Balclutha."
- Hawke's Bay Today