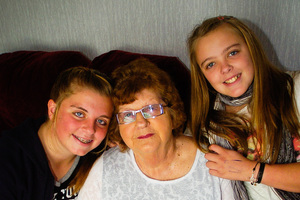 A dedicated mum of two young girls has died after having a seizure while at lunch with a girlfriend.
Sharlene Hedley, 44, had severe stomach pains for two days, but had no idea the pains were a symptom of a serious heart problem.
The popular sales and production co-ordinator at Sony Music in Auckland was rushed to hospital on Tuesday, but died during a 12-hour operation. Surgeons said she had a 25cm tear in her aorta.
Sharlene's daughters Amber, 13, and Jade Lloyd, 11, were coping as well as they could, their grandmother Raywin Hedley said. Raywin, 73, has custody of the girls and said they were keeping busy with netball and marching because "they want to keep doing the things their mum wanted them to do".Sharlene, who had separated from the girls' father, had involved her daughters in the fun aspects of her work, taking them to meet stars including Reece Mastin and One Direction.
"The girls were everything to her, she was passionate about them, her marching and music."
Raywin, who lost her son Barry 12 years ago to a cerebral haemorrhage, said there was no warning her daughter was so ill.
"Apart from the stomach pains there was nothing."
Cardiothoracic surgeon David Haydock said the condition - aortic dissection - was when a tear in the wall of the aorta caused blood to flow between the layers.
"It is a rare and dangerous condition that starts with severe chest and back pain."
It has a high mortality rate without surgery but even with surgery about 20 per cent of people with the condition die. The main cause is a weakness in the tissue making up the wall of the aorta, sometimes from high blood pressure.
Sharlene was involved in marching, both as a coach and a member of the senior side.
A trust for the girls had been set up with donations through Marching Waikato.