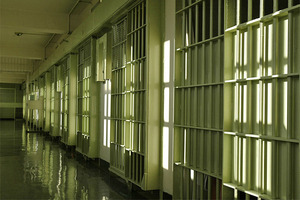 Staff assaulted and dangerous criminals on run.
Prisons around the country are reeling after what Corrections Minister Anne Tolley could only describe as "a bad week".
It began with an officer at Rimutaka Prison being seriously beaten last Friday.
The officer had been in an induced coma in a Wellington Hospital. The Corrections Department said he was out of the coma but remained in a serious condition.
Through the week, there were more outbreaks of violence in Auckland Prison at Paremoremo, the Northland Region Corrections Facility at Kaikohe and Spring Hill near Te Kauwhata.
It also included an escape by two dangerous prisoners from Waikeria - Jesse Lee Ibell, 24, and Wayne Holmes, 23.
Corrections Minister Anne Tolley said she was concerned about the incidents, particularly assaults on staff.
"This has been a bad week and, while unusual and unacceptable, it underlines the volatile nature of prisons," she said.
Following last Friday's attack at Rimutaka, Auckland Prison was the next to host a serious incident.
Eric Fairbairn, assistant general manager of prisons, said a maximum security prisoner went into a staff office and punched a corrections officer.
"The prisoner ... was locked in his cell. The staff member was assessed by prison health services for non-serious injuries and encouraged by the prison manager to go home for the afternoon."
Fairbairn said police were investigating.
"[The prisoner] has been placed on directed segregation for the good order and safety of the prison. This means he is managed in the most restrictive manner with limited time out of his cell and no interaction with other prisoners."
On Wednesday, also at Auckland Prison, a fight broke out between two B Block prisoners about 3pm. A small piece of sharpened metal was used as a weapon and one prisoner was treated for superficial wounds.
The Herald on Sunday understands one of the men involved was Ofa Motuliki, who was involved with an execution-style murder of 23-year-old Bloods gang member Tue Faave at Paremoremo in March 2009.
Early on Thursday morning, Ibell and Holmes broke out of Waikeria Prison and took a white Ford Laser from Kihikihi before ditching the vehicle at Kerepehi.
Dargaville police arrested the pair at 4.30pm yesterday and they will appear in Whangarei District Court tomorrow.
Also on Thursday, at the Northland Region Corrections Facility known as Ngawha, a group of prisoners refused to return to their cells.
The Herald on Sunday understands the leader of the rebellion was Guy Nicholas Wilson, who was involved with the home invasion and killing of Jason Boon in East Auckland in 2006.
Wilson was also jailed in 1990 for 10 years for gang rape and abduction.
Also on Thursday, a prisoner at Spring Hill confronted a staff member and pushed him to the ground. Another officer intervened and helped to restrain the prisoner, who was then locked in his cell. The incident has also been reported to the police.