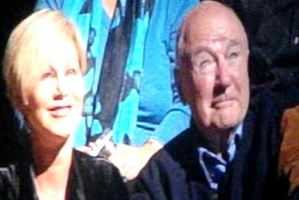 A music-mad grandfather was a surprise hit with Lady Gaga when she singled him out for VIP treatment.
Company boss John McAdams, 63, from Auckland, was thrust into the spotlight for staying seated during her performance at Vector Arena on Thursday.
McAdams was beamed on to giant TV screens as Gaga poked fun at him in front of 10,000 fans.
She was just metres away as he sat in the front row of the balcony.
"I just wondered why you are sitting," Gaga told him. "I just wanted to let you know I think you are lovely and think you should take this opportunity to show that fabulous sweater you have on, and the jeans, and celebrate yourself tonight."
McAdams told the Herald on Sunday he bought tickets for himself and wife Leonie because he loved live music spectaculars.
"I've travelled all over the world to see acts like Elton John, Rod Stewart and Celine Dion but being picked out by Lady Gaga tops the lot.
"I couldn't quite reach out and touch her but we were close enough to eyeball each other.
"She gave me a bit of stick for not dancing then came back over and stood there with a guitar and gyrated in front of me, so I just got on my feet and went for it. So did Leonie. The crowd loved it."