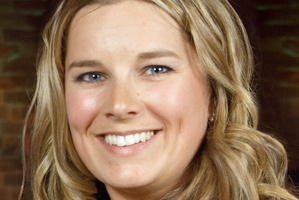 Emma Jolly was tipped to make a name for herself at a major Australian bank.
But her life was cut short when a car slammed into hers as she was driving to Perth to pick up her mother from the airport.
Her father, Richard Jolly, a Waikato farmer, says even though her life ended too soon, she made the most of her 31 years - filling them with love and joy and broadening her mind with travel.
"She was absolutely gorgeous, with a great big heart too. Emma was extremely adventurous too," Mr Jolly told the Herald.
Emma Jolly was killed in a crash at an intersection on the outskirts of Perth on May 21. She was going to the airport to pick up her mother, Raye, who had arrived from New Zealand to visit her.
A 56-year-old woman is facing criminal charges over the crash.
Emma Jolly moved to Wongan Hills from Te Awamutu three years ago and quickly made a name for herself at Westpac Australia as an agribusiness manager.
"They had great things planned for her - she was very involved with women in agriculture and was becoming a role model," Mr Jolly said.
Emma had always loved working on the family's sheep and beef farm.
" We've been farming for generations in the Waikato and she just loved the outdoor life and she just loved the challenges of the physical activity of it all. She just had a real affinity with agriculture," Mr Jolly said.
The head of Westpac Australia's commercial and agribusiness team, Sydney-based banker Graham Jennings, flew to Perth for Ms Jolly's funeral, and next week will visit her father on his farm.
Mr Jolly said Mr Jennings wanted to discuss a way to remember his daughter.
Emma Jolly had planned to marry Stephen Feast, whom she met in Austria.
Mr Jolly said the couple were very close, very good to each other and were "in the throes" of organising their wedding, which was to be held in Taupo next March.
This week, Emma's fiance accompanied her ashes back to New Zealand with her parents and two brothers after they attended her funeral in Perth and a memorial service in Wongan Hills.
Yesterday afternoon, more than 400 people packed the church at a memorial service in Te Awamutu.
In October 2008, Emma Jolly climbed Mt Kilimanjaro - something her father was very proud of her for achieving.
"She adored travelling and did so extensively," Mr Jolly said. "She just loved going on adventures ... She just lived life to the full."