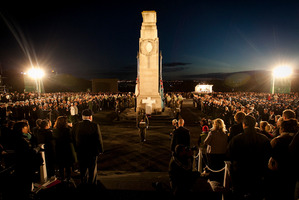 A ballot system to select who can attend Gallipoli centenary celebrations at Anzac Cove in 2015 is being considered by the Government.
Hundreds of Kiwis have already booked their trip of a lifetime for the milestone event.
But some might be left disappointed, and out of pocket, if current ballot proposals - mooted across the Tasman to much derision this week - are accepted by New Zealand, Australian, and Turkish authorities.
The tiny Turkish peninsula where Allied troops landed in 1915 during World War I can cater for only 10,500 visitors.
Every year, thousands of Kiwis and Aussies flock to the area to pay homage to the thousands of Anzac soldiers who lost their lives in the famous stalemate.
New Zealand and Australia governments, along with Turkish authorities, are considering how to cope with demand in 2015, which is expected to well exceed the 10,500 limit.
But the lottery proposal was blasted in Australia this week when government officials suggested the idea to RSL members.
One RSL state president said: "Why should Joe Bloggs who has only just arrived in Australia be able to put his name in the lottery and say 'I want to go and recognise the sacrifice of Australians' when someone else could have had a grandfather killed in the first landing and doesn't get to go?''
Veterans groups have called for descendants of Gallipoli veterans to be given first choice to go, whether a ballot system is introduced or not.
"That is definitely an option that should be considered,'' said RSA president Don McIvor.
Today, the New Zealand Government accepted that the ballot system was one of a range of measures being considered.
A spokeswoman for the Ministry of Foreign Affairs said: "New Zealand and Australia are currently considering the best way to accommodate demand.''
Veterans Affairs Minister Nathan Guy said no decision had been made about how to cope with the expected huge interest by New Zealanders and Australians in the centenary.
"The reality is that Gallipoli is a national park on a narrow peninsula and the Anzac commemorative sites can hold a limited number of people.
"We are working closely together with the Turkish and Australian governments on arrangements for Anzac Day 2015 in Gallipoli.''
Mr McIvor hoped the RSA would be involved in any discussions on how to cope with demand.
Meanwhile, travel agents have been stunned by the level of interest in tours, three years out from the centenary.
Stephen Parsons of House of Travel is selling 100th anniversary commemorative tour packages for $9950, and has already sold 90 places.
"Interest has been high and we're expecting around 250 to 300 who will book our tour,'' he said.
"There will be real pressure on numbers, but the governments will reach a decision and we'll have to follow it.''
A final decision on how numbers will be regulated is expected in the next few months.