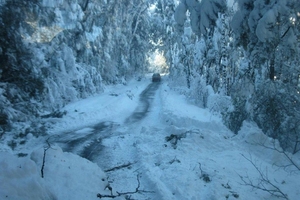 Lewis Pass in the central South Island reopened this afternoon after heavy snow and fallen trees had made it impassable.
Arthur's Pass, the other route joining the island's east and west coasts, remained closed but NZ Transport Agency regional state highways manager Colin Knaggs said good progress was being made and he was hopeful of getting the pass open this afternoon.
"It has been a long time since a storm has levelled so many trees in these two areas. Crews are working from both ends of these roads. It was safe enough for a couple of road clearing crews to work through the night and (that) has been a huge help.''
Hokitika airport manager Drew Howart said flights were resuming as normal after two days of disruption caused by the cold snap.
Every flight in and out was fully booked up.
"We have a big backlog of people we want to move. There's no doubt the people who can't continue by car will be flying.''
Tranz Alpine trains are also back on the rails after two days of track maintenance.
Bealey Hotel, 12km east of Arthur's Pass, has been snowed in since Wednesday.
Manager Kim Gillespie said the surroundings looked impressive but he was expecting another snowfall to "add more chaos''.
Nineteen Kiwirail staff had been trapped with them.
The hotel lost power at 2pm on Wednesday and got it back only at 5pm yesterday.