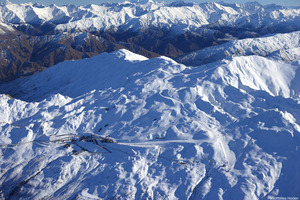 Natural snowfall and a drop in temperature has meant Coronet Peak will open on time on Saturday.
Coronet Peak Ski Area manager Hamish McCrostie confirmed the Coronet Express, Meadows Express and two main snow carpets would be open at 9am.
Mr McCrostie said the first four seats on the Coronet Express chairlift were usually fiercely sought-after; "we get people camping out here overnight".
Aside from the celebratory bubbles, and T-shirts for the first chair rides, Coronet is also hosting the Cure Kids Ticket to Hope event this Saturday.
Mr McCrostie said the news the mountain was able to open on its intended date was "fantastic" news made possible by the field's 116 snowguns.
"We have made a huge investment to be open this time of year and it really pays off for us and for the community, because we certainly wouldn't be open without snowmaking," he said yesterday.
Last Sunday, the slopes were looking bare and temperatures were too high for snowmaking. However, Mr McCrostie said on Wednesday this was not unusual for this industry.
"It's typical of late May and early June, but now that June is here we are likely to see more consistently cold temperatures."
The plan, he said, is to "just keep making snow as long as it's cold enough" for opening and the days after it.