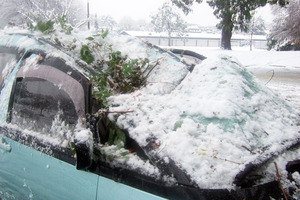 More than 100 people in Christchurch have endured their second night without electricity, but temperatures are picking up after the big freeze.
While snow still blankets the ground in many parts of the city, the temperature at Christchurch Airport hit 7.5 degrees this morning, up from the negative temperatures which greeted residents when they woke over the past two days.
Yesterday was the coldest day on record for Christchurch, with the temperature at the airport reaching a high of only 0.4 degrees Celsius.
A high of 10 degrees is forecast by MetService for the city today.
MetService forecaster Madz Maeraa said there would be snow down to three or four hundred metres later today in the far south, as another blast of cold air comes in from the southwest.
"There could be the odd thunderstorm and hail with it, but not huge amounts of snow and as I said, nothing like the previous storm."
Mr Maeraa said Cantabrians would see much warmer temperatures and spring like weather. He said the snow cover would start melting with the northwesterly winds.
Most schools will reopen today, although some rural schools will remain closed for a third day. School closures can be found here.
The University of Canterbury and Christchurch Polytechnic Institute of Technology will both open this morning.
Orion energy said there were less than 150 customers without power.
Power came and went for 100-300 customers in Christchurch and central Canterbury overnight. Most of the affected customers were in the rural areas west of Christchurch, including parts of Castle Hill and Kimberley.
Orion chief executive Rob Jamieson said most power outages were caused by branches from trees falling into power lines.
"We know how difficult it is to be without power in these conditions, and we have teams working to restore power and we're working as quickly as we can to get power back to everyone," Mr Jamieson said.
"Access difficulties are hampering efforts, especially in the Castle Hill area. In other places tree branches from snow damaged trees falling into lines has been significant, which means repairs can take a long time."
State Highway 73 Arthurs, SH73 Porters Pass, and SH7 Lewis Pass remain closed this morning due to snow. Motorists driving along SH94 from Te Anau to Milford Sound were advised to carry chains.
All Christchurch buses are operating again this morning as normal, with the exception of hillside routes due to the icy conditions.
Police are again appealing for motorists to drive to the conditions.
"Christchurch and a lot of the South Island is much the same as yesterday, we still have a significant ice problem on roads so caution's needed throughout the region," southern communications Inspector Pete Hegarty said.
Hegarty said drivers should slow right down, and increase their following distances - something they did well yesterday, with just a few minor incidents.
Meanwhile the Orana Wildlife Park is to be closed for more than a week as a result of snow damage.
Chief executive Lynn Anderson said the snow storm caused significant, widespread damage, particularly to the dangerous carnivores fences.
"We have major damage to the lion and tiger fences. The animals are completely secure within their buildings and will not be let into display exhibits until the damage is repaired," Ms Anderson said.
"Other damage was caused by a massive power spike which burnt out switch boards and circuit breakers in numerous locations around the zoo. Trees and branches have also been felled and are resting on fences."
It is hoped the park can reopen on June 16, making it one of the longest closures in the zoo's 36 year history.
Orana has already suffered a drop in visitor numbers due to the earthquakes, but had seen some signs of recovery.
"Unfortunately, the snow is a further setback but our team are working tirelessly with the aim of opening the Park as soon as possible so people can enjoy visiting our beautiful animals," Ms Anderson said.
- With Newstalk ZB