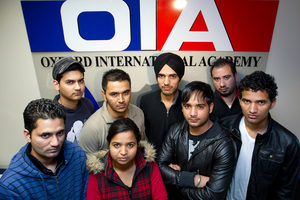 Another school for international students has collapsed, leaving about 150 mainly Indian pupils facing an uncertain future.
Oxford International Academy (OIA) in Auckland's Queen St went into voluntary liquidation yesterday, six months after it was stopped from marking its students' work because of plagiarism concerns.
Outgoing principal Naomi Patterson said she contacted the New Zealand Qualifications Authority and Immigration New Zealand on Wednesday after coming into the school this week to find owner Michael Li's office empty.
However, liquidator Chris Horton, who was appointed by Mr Li, said that as far as he was aware all the students' fees were secure in the Public Trust and no assets or relevant information were missing from the premises.
Mr Horton said he would investigate all claims made by staff and students.
NZQA deputy chief executive (quality assurance) Tim Fowler said his organisation had checked OIA's student fee money only last week and it was safe in the trust.
He said NZQA staff would work to find new schools for all the students at no extra cost, but it could take time as they needed reputable schools with matching courses, which were easy to get to.
Angry students at the school yesterday said the collapse left them unable to work part-time, as they would have to change to visitors' visas until starting a new school.
Even then, stricter rules introduced this year on part-time work for overseas students meant they could not support themselves.
"I came to New Zealand to study in this country, not to get robbed," said 25-year-old Archaha Mala, who is halfway through a management course which cost her $5000. "I'm a single mother and I have bills to pay but now I cannot work."
Sukhdev Singh and Harpreet Singh said they had been waiting for eight months to get their business management diploma papers marked by another reputable school, so they could graduate.
Several students said the school had effectively ground to a halt since a scathing NZQA report in December, leaving them unable to get their qualifications and renew visas so they could work part-time.
The report said NZQA had no confidence in the school because of its history of excessive plagiarism, poor attendance and low course-completion rates.
DISHONOUR ROLL
* NZ Academy of Studies: Forced to close in 2009 after it was caught selling a business diploma for $12,000.
* API Institute of Education: More than 150 international students gained fraudulent qualifications in less than a year until staff blew the whistle.
* Kingsland Institute: Two senior staff charged with immigration fraud in 2010.
* Ivy College: Closed down last August after NZQA expressed a lack of confidence in its qualifications.
* Oxford International Academy: Placed in voluntary liquidation yesterday after NZQA expressed no confidence in the school in December.