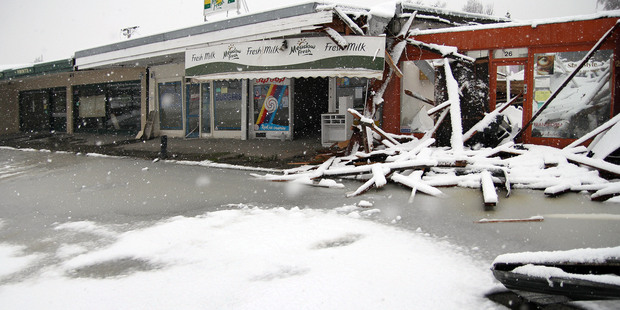 Hundreds of Cantabrians will spend a second cold night without power as damage and transport difficulties hamper repair efforts.
Snow and black ice has continued to cause havoc throughout the region with roads closed, power lines down and flights in and out of Christchurch cancelled or delayed.
Temperatures plummeted to near-record lows for the first week of June, with reports of temperatures as low as minus 11C in inland Canterbury.
Power company Orion said fewer than 300 customers were still without power in Christchurch and central Canterbury this evening, down from 1700 customers this morning.
Most of the affected customers were in the rural area west of Christchurch, including parts of Weedons, Hororata, Kimberley and Castle Hill.
Orion chief executive Rob Jamieson said access difficulties were hampering repair efforts, especially in the Castle Hill area.
"In other places damage from trees falling into lines has been significant, which means repairs can take a long time," he said.
"We know how difficult it is to be without power in these conditions, and we're working as quickly as we can to get power back to everyone."
Ice and freezing temperatures at Christchurch Airport disrupted or cancelled flights today, causing anxiety for Lady Gaga fans travelling to Auckland to see the pop star's show at Vector Arena tonight.
Airport spokeswoman Yvonne Densem said she had spoken to some "anxious" Lady Gaga fans at the airport today.
"They're very, very keen to get there," she said.
"I spoke to a few in the terminal and they seemed very relieved they had got onto other flights."
Some fans took to Twitter to vent their frustrations.
Robyn said she had to pay another $429 for Air New Zealand tickets after her Jetstar flight was twice delayed before being cancelled.
On Facebook, Dani Robinson said she was at Wellington Airport for three hours "crying and doing anything to get a flight".
She could not get a refund for her ticket to tonight's show and had to get a Saturday flight for the Sunday show.
Jetstar issued a statement on Facebook saying it had confirmed with the venue that Lady Gaga would not arrive onstage until at least 8.30pm.
But that would be too late for passengers on flight JQ266 from Wellington to Auckland, which was estimated to depart at 8.35pm.
Air New Zealand said flights in and out of Christchurch were operating from midday and most of the passenger backlog had been cleared.
Its flights would operate as scheduled tomorrow if conditions did not worsen.
By this afternoon, the main runway and taxiways at Christchurch airport were clear and airlines had resumed flights.
There could be some delays tomorrow morning but it was hoped preventative measures overnight would help deal with frost.
Police said there had been about 15 crashes but no serious injuries in Christchurch, North Canterbury and Selwyn.
Drivers were generally driving to the conditions but police urged motorists to remain cautious.
Ice was likely to remain a hazard overnight and in the morning, with rural and shaded areas particularly at risk.
St John Ambulance reported a busy morning in Canterbury.
Staff helped 24 people who had fallen and injured themselves in the snow or ice by 5.30pm.
Some bus services in Christchurch had been due to resume this afternoon after services were cancelled again this morning.
The snow also forced the closure of schools, university and council offices, and the cancellation of club meetings across Canterbury.
Canterbury University and Christchurch Polytechnic Institute of Technology campuses were closed all day.
New Zealand Post shops were open but deliveries in the city were suspended.
Delays were expected for mail deliveries in Ashburton, Nelson and Blenheim but Greymouth services were back to normal.
Plunket suspended all services in Canterbury and Mid Canterbury regions again today due to the road conditions.
WeatherWatch forecasters said more frosts were possible tonight, with further icy conditions on the roads. A weak southerly change is possible tomorrow afternoon, delivering a few showers.

- APNZ