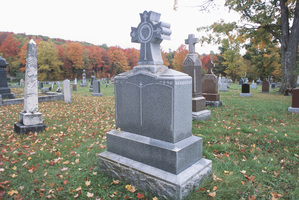 Business owners are chipping in to help families replace brass plaques stolen from graves and sold for scrap.
Thirteen plaques worth $16,814 were ripped off headstones at Waikumete Cemetery in West Auckland last October.
Neil Joseph Anderson, 46, is facing 26 charges of theft and intentional damage over removing the plaques from the graves.
He was on the run from police after failing to appear in court, but was arrested in Christchurch on February 22 and charged with burglary after he was caught in an earthquake-damaged house.
But he escaped by jumping out of a window at Christchurch Hospital while still attached to a heart monitor.
Kieron Richard Officer, 48, pleaded guilty to receiving the stolen plaques and selling them to a New Lynn scrap metal dealer, who alerted police. Officer will be sentenced next month.
Police said that as both men were sickness beneficiaries, and Anderson was evading arrest, it was unlikely they would be ordered to pay reparation to the relatives of people whose graves had been damaged.
Constable Jodi Browne said that because of this, police had arranged help from local businesses to get replacement plaques for the families.
A meeting will be held between the families and businesses including Parkinson Bouskill and Glucina Alloys this month to discuss the plan.
"But it looks as though the broken pieces of plaques will be melted down and then the material used to make plaques for each family," she said.
"Once the plaques have been remade we will have a small gathering up at Waikumete Cemetery where there will be a service and then they will be replaced on the graves."
Each plaque will cost $1000 or more to replace.
Police are seeking the relatives of five people whose headstones were destroyed and Ms Browne gave the names on the headstones to the Herald to try to track down the remaining families.
"There are a couple that had missing pieces where the names were, so they will remain unknown until someone visits the grave and realises they are missing," she said.
CAN YOU HELP?
Do you know these people or their relatives?
* Ethel Lockley: Died 26/06/1961
* Elizabeth Ellen Horner: Died 19/02/1942
* Robert Coulson: Died 09/05/1949
* Emilie Sarah Drumm: Died 10/11/1984
* Alexander Palmer Horne: Died 14/02/1945
Contact the Avondale police on (09) 820-5779 or email intel.auckland.west@police.govt.nz
Anyone with information on the whereabouts of Neil Joseph Anderson, 46, should also contact the police.