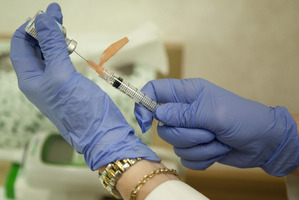 The epidemic of whooping cough, a potentially fatal infection, is rapidly escalating, the latest figures published by health authorities show.
The disease, spread by coughing and sneezing, is particularly dangerous for babies and other young children. It can lead to pneumonia, convulsions and brain damage.
In the Auckland region 322 cases of the bacterial infection were reported between January 1 and the end of last month, the regional public health service said yesterday.
Nationally this year, by May 25 there had been some 2000 notifications of cases that were confirmed, probable, suspected or still under investigation. In the same period last year there were 275 notifications, according to the fortnightly whooping cough report produced by the Institute of Environmental Science and Research (ESR).
The weekly national tallies rose sharply during May.
In Greater Auckland the number of cases is five times the level reported from January to May last year.
"Notifications of whooping cough have increased rapidly with a third of this year's cases in May alone, which shows the scale of the outbreak in our region," said medical officer of health Dr Andrew Lindsay.
"Whooping cough is very contagious and can have severe impacts on babies and infants. It is very important to look at how you can protect your family, friends and the people you work with."
Nationally, 96 people with whooping cough, of whom 60 were aged less than one year, had needed to be admitted to hospital for treatment, the ESR report said.
Despite the high numbers in the Auckland region, the country's most populous, the highest per-capita regional rates of whooping cough are in the South Island - Nelson-Marlborough and the West Coast - followed by Gisborne-based Tairawhiti. Nelson-Marlborough's rate was 237 per 100,000 population, while Auckland's highest rate was 22 per 100,000, in the Counties Manukau health district.
Health authorities say vaccination is the best protection against whooping cough, although it wears off over time and babies can't be given the first injection until they are six weeks old. Adults in contact with newborns are urged to have a booster shot.
State medicines agency Pharmac last week extended funding to the antibiotic azithromycin which can be used to treat and prevent whooping cough in children under one.
How many
* 2008 notifications nationally of whooping cough this year, up to May 25.
* 322 cases reported in the Auckland region this year, up to May 31.