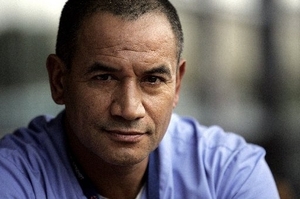 Stories making headlines across New Zealand at noon include Temuera Morrison's new movie about a family of middle class Maori cannibals, tough times for hookers in Tauranga and time wasting at work in cyberspace is "a real worry" in Rotorua.
Te Arawa leaders are urging people to stay calm and remember the content in Temuera Morrison's latest movie about a family of middle-class Maori cannibals is not real, while an author says there "may be a bit of rawness" about it.
The oldest profession in the world has apparently hit tough times in Tauranga with commercial cleaning becoming a more lucrative proposition for some.
Workers lose up to a day every week to time-wasting activities such as tweeting, playing games, sending personal emails and reading this column, according to an Ernst & Young study.
Michael Hill Jeweller sales professional Maria Blatch still has "Benny Hill music playing" in her head after she and increasing numbers of the public chased a jewel thief across Napier.
Roofer Dion Bradford of Alexandra admits he was on the roof of McDonald's restaurant without a reasonable excuse.
In Canterbury, homeless people appear to be moving out of a nearby forest into the relative comfort of abandoned red-zone houses. And it is no wonder!
Extreme caution is being urged on Mid Canterbury's roads. Farmers were well prepared, children were very happy, and they are jumping up and down on the skifields.
A Mangapai resident, who didn't want to be named, said he believes it won't be long before someone is killed by an insecure log. Meanwhile this is what a crashed logging truck looks like.
Over at Ngawha prison, sniffer dog Barney was on routine patrol when he detected a drug odour near a driver's crotch.
Meanwhile some Warkworth residents are really keen to take a wrecking ball to a local Category 1 Historic Site.
For a 35-strong group of Poukawa School pupils the rare transit of Venus became their classroom. In case you missed it, here's the Transit of Venus viewed from Northland, Bay of Plenty, Hawke's Bay, Gisborne, Wanganui, Wairarapa,
What is happening to the tough Kiwi male?
Neihana-James Tawera and Joshua Johnson suddenly found themselves swimming for their lives in Lake Taupo.
Tauranga Hospital is commonly treating 13 to 14-year-old children for eating disorders. Meanwhile here's what was happening in the region in 1952.
There's a whooping cough warning in Wairarapa. Meanwhile it was really wet and windy in the region yesterday.
Eltham is mourning the death of Maurice Mundt.
Over in Gisborne, there's been a good turnout for season's first bull sale.
Just because you are 17 and from Rangiora High School doesn't mean you can't start your own record label.
Three red cards and alleged racial abuse by the referee featured in a Dunedin premier league game at the weekend.
Angela Dowler and friends thought it would be a good idea to torch a house in Westport and then claim the insurance money.
With a capital value of $1.77 million, the historic Dunedin Prison has sold for $20,000.
Slurp your coffee. Yes slurp it, says an expert.
In Oamaru, Neville Francis Wareham shot his former boarder with marbles fired from a paintball gun.
And over on the West Coast at Coal Creek, a family of nine have lost everything after their home was flooded, but lollies from the firemen helped cheered the little ones up.
Top trending stories on Twitter in NZ at Noon were: #nuprella, #askpayne, #Backbenches, Nikki Kaye, Dear John, Ray Bradbury, Robbie Williams, LinkedIn, Grace Jones and Paula Bennett.