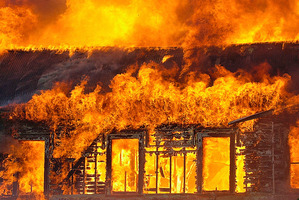 Two of the three people responsible for burning down a Westport house in an insurance fraud have been sentenced in the Greymouth District Court to jail terms.
However, Judge David McKegg, noting that the defendants had no means to pay, declined to order the $117,000 reparation that the Housing Corporation sought as replacement value of the destroyed property.
The mastermind behind the fraud, Angela Dowler, 27, of Westport, received a three-year jail sentence for arson and insurance fraud and her accomplice, Daniel Waines, 18, also of Westport, received a 20-month jail sentence for arson. An associate, Julie Rangihika, 34, of Taupo, received 250 hours of community work for conspiring to commit arson.
The trio had conspired to torch a house at 49 Fonblanque Street, Westport, on August 28 last year.
Dowler obtained a lease of the house in January 2011, immediately taking out a $60,000 AMI insurance policy for contents and personal effects.
Over the ensuing months, Waines and several other young men were at various times co-tenants of the house.
In August, Dowler started asking associates to torch the property, promising cash payments to anyone who would accept the job.
Eventually, a plan was hatched between Dowler, Haines and another 17-year-old, who is yet to be dealt with by the courts.
On August 26, Dowler and her partner travelled to Christchurch for a weekend to ensure that they had alibis, while Waines and the other youth set fire to the house. Waines poured petrol through the property and his friend set it alight.
The Westport Volunteer Fire Brigade battled the blaze for an hour and a half, but was unable to save the house.
Dowler returned to Westport and immediately lodged an emergency claim for $5000, which AMI paid out, but the remainder of the policy was withheld when the authorities ruled the fire suspicious.
A police investigation eventually revealed the arson plot.
At a recent Greymouth District Court appearance, Judge Raoul Neave agreed with a submission from lawyer Doug Taffs that Waines had been heavily influenced by Dowler, who was the ringleader.
As a first offender, Waines was told he would most probably get home detention, but on Thursday, Judge McKegg decided that the seriousness of the offence warranted a full prison term.