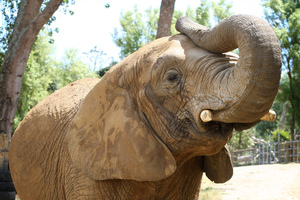 An elephant that killed its keeper at a south Auckland zoo may have to be euthanased as fundraising efforts to move it offshore fall short.
Former circus elephant Mila crushed keeper Helen Schofield to death in her enclosure at the Franklin Zoo and Wildlife Sanctuary in April.
Dr Schofield had planned to send Mila to a Californian rehabilitation centre for former circus and zoo animals called Performance Animal Welfare Society, or PAWS.
The sanctuary says it may have to put down Mila unless it can raise $1.45 million for the move by June 10.
In a statement Dr Schofield's sister Jenny Chung said she was determined to fulfill her sister's plans for Mila's future care.
"There is a very tight timeframe. This may seem like a huge ask but I am sure there is a corporation, organisation or individual who believes in this cause and has the resources to help make this happen.
"I believe, and Helen believed, that all animals deserve as full and enriching a life as possible. Mila is a social animal and she deserves to spend the rest of her life with other elephants.''
To make a donation visit the Franklin Zoo website.
- APNZ