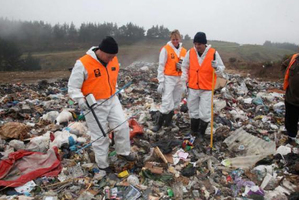 Police rescuers have been forced to dig through landfill waste for a still-transmitting emergency beacon thrown out with the rubbish in Rotorua.
The Rescue Coordination Centre New Zealand was called at about 6pm yesterday after aircraft started picking up the signal from an emergency beacon in a landfill near Rotorua airport.
Officers called the registered owner of the beacon, who told them he had thrown it out in the weekly council refuse collection after he bought a newer model.
Two Rotorua police search and rescue squad members and a pair of volunteers were given the " unpleasant and onerous" task of sifting through the landfill for the beacon, police said.
"Thankfully this was made easier with the assistance of landfill staff who could pinpoint the exact location where refuse had been dumped from the area where the beacon's owner lives.
"Using specialist direction finding equipment the errant beacon was quickly found and switched off."
Police said old emergency beacons should be deactivated, with their batteries removed, before being dumped.
- HERALD ONLINE