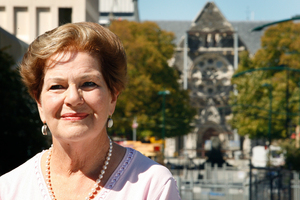 International opera star Dame Malvina Major initially mistook her elevation to New Zealand's highest honour as simply an invitation to Government House.
"I got a letter that didn't make much sense," Dame Malvina said from her Hamilton home yesterday.
She is among four Additional Members appointed today to the Order of New Zealand.
"I thought it must be an invitation to Government House or something. When I opened it I thought, 'I can't quite understand what it's saying here,' because one thinks you've got all the honours that are going and I thought, 'I don't know what it is.'
"Then I thought, 'It looks like an ONZ,' and I thought, 'I don't know, I'll have to ring somebody,' so I rang Government House.
"And of course the letter was late. The dates that I had to respond to it by had passed so I had to ring them anyway and see what it is and I'm late anyway but they accepted all of that because they were obviously late sending them out."
The lyric soprano and Waikato University singing teacher, who is 69, reduced her international workload last year but still performs regularly in this country, and has been invited back to Egypt and will perform in Hong Kong later in the year.
Dame Malvina was the Herald's first New Zealander of the Year, in 1991, the year she was made a Dame Commander of the Order of the British Empire. In 2008, she was made a Principal Companion of the NZ Order of Merit, which the following year was renamed Dame Grand Companion.
The citation for her Order of NZ appointment describes Dame Malvina as one of NZ's great opera divas.
"She has had an outstanding international career as a singer, but is also renowned as a teacher of voice and for her encouragement of the next generation of artists through the Dame Malvina Major Foundation."
In the exclusive Order of New Zealand she joins her friend and one-time singing rival Dame Kiri Te Kanawa, who was appointed in 1995.
Early in their careers, Dame Malvina beat Dame Kiri in the 1963 Mobil Song Quest. Dame Kiri came second that year, and won the competition in 1965. They were both taught by Dame Sister Mary Leo at St Mary's College in Ponsonby, Auckland.
Dame Malvina said yesterday that she doubted whether the careers of popular singers of today, such as Adele and Lady Gaga, would last until they were 69.