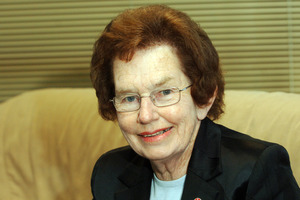 Dame Margaret Bazley believes the thousands of public servants she has worked with should share her honour of being appointed an Additional Member of the Order of New Zealand.
Dame Margaret has held senior leadership roles in the health and state sector for more than 50 years, including high-profile assignments such as leading the Commission of Inquiry into Police Conduct and a review of the legal aid system.
Despite having earlier been made a Dame, the latest honour came as a complete surprise.
"It's something you never expect and it's quite overwhelming. It's just such a great honour and one very few people get - certainly I didn't think I would ever get."
Dame Margaret said she had worked with "thousands" of public servants during her career. "I think a bit of the honour is for them as well."
She said the award was an acknowledgment of the esteem in which the Government held the public service. It was a rewarding sector to work in because it served the country.