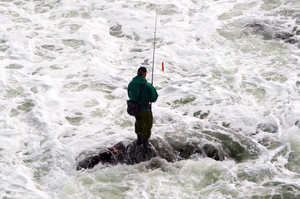 A young man left clinging to a rock after being smashed by 4m waves cheated death after his mates risked their lives to haul him to safety.
Yesterday's drama began only 10 minutes after five mates settled into their fishing spot at The Gap near Taiharuru, 32km northeast of Whangarei about 1.30pm. A wave knocked them all off their feet and had them scrambling on the rocks.
Eighteen-year-old Steven Gemmell thought it was all over when a wall of water slammed into him and he was only just able to grab on to rocks to stop being washed out to sea.
"I was sitting down the bottom and threw my line in. A wave washed over me and then the next one smacked me... it was huge," he said.
"I thought I was dead. I didn't think I was still on the rocks but out in the water. I saw the light and grabbed the rocks."
If it wasn't for his two mates, Hohepa Tatana and Carlos Pukeroa-Sutherland, the day could have ended tragically, he said.
"The waves were smashing me and I couldn't see anything under the water. I was telling them to leave me but the bros helped me up. I was very lucky."
As waves washed around them, Mr Pukeroa-Sutherland believed he could see the fear in his friend's eyes.
He was the first to reach Mr Gemmell, who was partially submerged.
"I was pretty scared I thought we were all gone. I ran over and I could see in his eyes he had fear," he said.
Mr Tatana, who had also been pounded by the wave into a rock pool, refused to leave his friend to the mercy of the sea.
"I popped my head up to see if my bro was still on the rocks. He was hanging on for his life.
"I told him,'Bro, you're not going to die here'," Mr Tatana said.
When they hauled Mr Gemmell out of the water and started to drag him to safety they realised the big toe on his right foot had been severed and he was bleeding badly.
Once they had Mr Gemmell clear of the waves Deangelo Tangimetua and Clayton Panui were able to alert locals and get them to call for an ambulance.
In the meantime they tied a rope around Mr Gemmell's thigh to try to slow the blood flow and bandaged his foot and elevated his leg using a bag.
Onerahi policeman and and experienced surfer Constable Daryl Curran estimated the swells to be up to 4m.
"I think these guys saved their mate's life without a doubt.
"If he had gone in the water he wouldn't have got out.
"By the same token, it wasn't the day to go fishing off the rocks.
"Fishermen should check weather forecasts and play it safe," Mr Curran said.
"I think it's been a learning experience for everyone."
St John officers took Mr Gemmell to Whangarei Hospital where he had an X-ray on his foot. Doctors were assessing whether they could save his toe and deciding if he needed to be sent to Auckland for surgery.

For more articles from this region, go to Northern Advocate