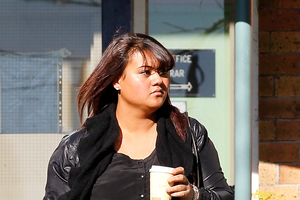 Former rugby league star Tawera Nikau has been found guilty of assaulting his estranged daughter during a heated public dispute.
Nikau appeared in Huntly District Court yesterday for a defended hearing over the incident involving his daughter, Heaven-Leigh Nikau, outside Huntly police station on February 24.
The court was told Nikau, 45, was in a car with the father of Heaven-Leigh's children when the father confronted Heaven-Leigh, who was walking with the two children along Huntly's main street.
Heaven-Leigh had earlier taken the children away from their grandmother, who had custody of them.
The father took the two children away from her and a distraught Heaven-Leigh was calmed down by Constable Peter Sherie, who was nearby when he heard people yelling.
He tried to calm Heaven-Leigh and then drove her and her cousin to the police station in an attempt to defuse the situation.
Shortly after, Heaven-Leigh and her cousin were walking away from the police station when Nikau drove past and yelled out to them, stopping in the middle of the road.
Heaven-Leigh told the court she did not hear what he said and opened the back left door of his black Toyota Hilux and put her head in.
She said Nikau got out of the car and walked towards her.
Heaven-Leigh said he was "angry and hyped" as he grabbed her tightly by the throat and dragged her onto the footpath.
The court heard that she tried to push him away and after several seconds he let her go.
As he walked back to his 4WD, she said he shouted to her that she was a "bad parent and a loser".
Nikau did not give evidence but in an interview recorded by police on the day of the incident, and played to the court, he said he had driven past his daughter on William St. He said she was visibly upset and he had yelled out to see if she was okay.
He said he stopped his car and got out to shut the door she had opened, when his daughter started abusing him.
"She was trying to grab me and scratch me and that's when I grabbed her by the throat in self-defence."
Nikau had a large scratch on his arm which he said Heaven-Leigh caused. He said he could have easily knocked her to the ground if he had wanted to, given his size and strength.
"I'm not that stupid that I would hit her or assault her for no reason, especially right outside the police station."
Asked by police if he and his daughter had a relationship, he replied: "I don't have a relationship with her. She's a liar, a cheat and a thief and she has no fixed abode."
Huntly joiner Peter Brown was driving back to work when he stopped his vehicle because Nikau's was blocking the road. Mr Brown told the court he saw a man he later recognised as Nikau walk up to Heaven-Leigh and "put his hand around her throat and pushed her up slightly against the tree". He said he saw only parts of the assault and did not hear what they were arguing about.
Nikau's lawyer, Gary Gotlieb, argued that Nikau had not assaulted his daughter, who he said was upset and angry, and had held her away at arm's length to stop her from hitting him.
He asked Judge Peter Spiller to discharge Nikau without conviction and said he had done "volumes" for the Huntly community.
However, the prosecutor, Keith Gulliver said that had to put be aside and the facts taken into account.
Judge Spiller said the key issue was what happened on William St and he believed there was enough evidence to find Nikau guilty of assault.
Nikau will be sentenced on June 28. He was granted bail.