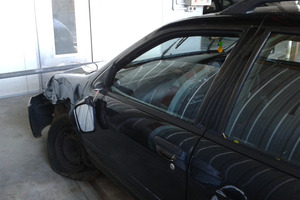 A 19-year-old has been left injured and out of pocket after a carjacking that resulted in a high-speed police pursuit in the Western Bay of Plenty.
Jordan Scott was bashed by a young man who pulled him from his driver's seat and pushed him down a steep bank covered in gorse, before fleeing in his black Nissan Lucino.
Mr Scott had been driving himself and three other men to parties in Te Puke's No1 Rd and Welcome Bay when he stopped in Poplar Lane so his passengers could go to the toilet.
He was then assaulted.
"I saw in the side mirror the guy come down to me, and all of a sudden he opened up the door and started throwing punches in my face," Mr Scott said.
"He pulled me from my car and the other guys tried getting him off me but they couldn't.
"Then I got up and he pushed me down into the gorse."
The young kiwifruit picker was pushed up to 4m down the bank of gorse bush.
"By the time I got up on the bank, the car was gone," he said.
"I've got a broken nose ... black eye, bruising behind my ears, I'm all swollen up."
Scratched, broken and bruised, Mr Scott called the police from this phone and headed toward a former fruit store on State Highway 2, where four or five police cars met him.
Mr Scott got into one of the cars and headed to where he thought his car was going.
Police found Mr Scott's car in No1 Rd and signalled for the car to stop but the driver fled - sparking a police pursuit through Te Puke and down Welcome Bay Rd.
It's understood the fleeing car allegedly reached speeds of up to 140km/h while travelling through Te Puke's 50km/h township and parts of Welcome Bay Rd, where the driver crashed.
"Then he lost control on the 35km/h corner and went off a 20m bank, totalling my car," Mr Scott said.
"So now I'm without a car."
Mr Scott said he had spent $2500 on speakers and subs for the car. The shirt he had been wearing was ripped up and stained with blood.
Mr Scott was now scared, out of pocket and without transportation.
The car is owned by Mr Scott's girlfriend, who lives in Wellington.
He withdrew money from his savings to buy her a new one.
"She said she's upset but she was more worried about me," he said.
A man has been charged with robbery, dangerous driving, failing to stop and driving with excess breath alcohol and was to appear in Tauranga District Court today.
For more articles from this region, go to Bay of Plenty Times