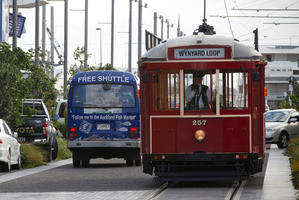 Auckland Transport is considering reducing the speed limit in Wynyard Quarter to 30km/h among measures to discourage cars and boost walking, cycling and public transport.
The organisation, which is setting up a new transport management association for the developing waterfront precinct, says it will consult the public before lowering the limit from the standard 50km/h.
But community transport manager Matthew Rednall, who will chair the association, said yesterday that traffic was already travelling well below the legal limit along the quarter's recently upgraded Jellicoe St boulevard.
Similar upgrades at two key access routes through the quarter, Halsey St and Daldy St, would begin by the end of the year after being put up for public consultation next week. These were likely to include wider footpaths and changes to on-street parking.
Mr Rednall said the new association, which included Waterfront Auckland and Viaduct Harbour Holdings as major landowners, would work towards a goal of limiting car use to just 30 per cent of people travelling to and from the precinct.
It wanted the rest to use public transport, walk, or cycle.
That was in line with an Environment Court consent order aimed at enhancing the commercial and economic development of an area which was constrained by limited access points.
Although Air New Zealand as a major employer at the edge of Wynyard Quarter had already achieved the desired ratio through educating its staff about travel alternatives, about 60 per cent of movements to and from the zone were still by car.
But Mr Rednall said that as the area was only 17 per cent of its way towards full development, ample opportunity remained to turn that around, and promising results had been achieved from new bus services.
Buses from central Auckland, which were free to holders of electronic Hop cards, brought about 400 workers to Wynyard Quarter each morning and up to 500 people walked to work across the relatively new Te Wero bridge.
Although only about 20 per cent of an ultimate working and residential population of 20,000 or so people are so far based in the precinct, the ASB Bank will provide a major boost next year when it opens a new head office for almost 2000 staff.
Other future travel options will also include a walking and cycling bridge across the motorway from St Marys Bay, and an extension of the Wynyard Quarter tramway to Britomart.