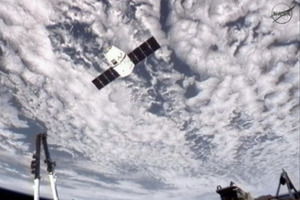 The next phase in AUT's link to the International Space Station will take place tomorrow.
AUT University's radio astronomy observatory north of Auckland will track the re-entry into Earth's atmosphere of the first private space flight to the International Space Station (ISS).
California-based Space Exploration Technologies (SpaceX) launched its 55-metre tall Falcon 9 rocket, topped with the gumdrop-shaped Dragon space craft, from Cape Canaveral on Tuesday 22nd May.
Dragon successfully berthed at the ISS on Friday.
AUT University's Institute of Radio Astronomy and Space Research (IRASR) were contracted to track Dragon throughout its flight and on re-entry because of New Zealand's location and AUT's experience with space agencies including Nasa, JAXA, the European Space Agency and the Russian Space Agency.
Director of the IRASR, Professor Sergei Gulyaev said New Zealand will become more involved in space flights thanks to its "fantastic" location on the globe.
Using radio astronomy - tracking objects in space through radio frequencies - his team will have the world's best vantage point from which to monitor Dragon's descent as it splashes into the Pacific Ocean, hundreds of kilometres off the coast of California tomorrow night.
"New Zealand's unique location in the South Pacific means we will be able to see the spacecraft before the SpaceX team, and therefore be able to give them exact co-ordinates for its landing," he said.
"If needed they will be able to fine-tune the craft's trajectory using our radio telescope."
"We are basically the last point from where you can observe most of the descending trajectory. Our role is now getting more and more important because of our location."
IRASR will monitor up to 12 space flights a year for SpaceX, which is owned by PayPal founder Elon Musk.
Initial flights will deliver cargo but SpaceX will later transport ISS crews and eventually expand its service to private tourists.
"Our isolation used to be a problem, now it's our benefit," said Mr Gulyaev.
The re-entry is scheduled to take place tomorrow, with the departure from the ISS broadcast live on Nasa's website starting at 7.30pm (NZT).
- APNZ