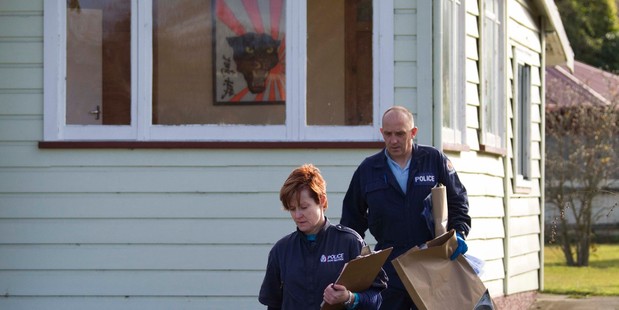 Police say they can't be certain if a Czech tourist would still be alive if they'd managed to find the man suspected of killing her before he disappeared.
Jason Frandi had been sought by police before he came into contact with 31-year-old Dagmar Pytlickova of the Czech Republic.
The heavily tattooed 43-year-old had become aware of a child sex allegation against him on Saturday, before he picked up the hitchhiking Czech.
His body was found near Miss Pytlickova's in a remote area outside the south Canterbury town of Waimate.
No one else is being sought in relation to the deaths.
Known as Dasha, Miss Pytlickova, 31, had been in New Zealand since January, most recently working at a vineyard in Cromwell in Central Otago.
On Saturday, she had been hitch-hiking from Cromwell to Timaru.
Last night Assistant Police Commissioner Malcolm Burgess told TV3's Campbell Live that police had been investigating the allegations against Frandi.
There was an agreement between the police informant and investigating officers to keep the detail of the new allegation "under wraps until an appropriate time'', Mr Burgess said.
However Frandi had become aware of it on Saturday.
This morning Assistant Commissioner Burgess told Radio New Zealand it was difficult to say whether the tragedy could have been prevented.
"This gentleman had lived in this community for a number of years without exciting an particular curiosity or alarm," he told Morning Report.
"You'd love to be able to prevent all of these sorts of crimes, but I guess you deal with the person as they present to you and once there is any sort of heightened level of concern you take the appropriate action. That's what police did.
"The police in Waimate responded quickly and appropriately."
SISTER'S LONG WAIT TO MEET SIBLING
The sister of Miss Pytlickova was also in New Zealand, waiting to meet her sibling.
But she waited in vain on Saturday night as Dagmar Pytlickova's world had already collided with that of Frandi.
Last night a spokesman from the Ministry of Foreign Affairs of the Czech Republic said Miss Pytlickova's family were too upset to talk about the loss of their daughter.
Frandi was known in Waimate as a hard worker but unbeknown to neighbours was a ticking timebomb with a history of sexually motivated crime, who was also facing accusations of molesting children.
He lived alone and worked as a driver and machinery operator in the small South Canterbury town.
Miss Pytlickova had taken leave from her vineyard job to travel further north and meet friends. Her employer, Grant Rolston of Bald Hills Wines, said that the news of her death came as a shock.
"We only found out ... when the police released her name. No one thought anything was wrong because she was meant to be on holiday."
Mr Rolston worked with Miss Pytlickova last Friday, and said she was a friendly and outgoing young lady.
"She had been working for us over harvest for the last six weeks.
"She was very outgoing and a lovely girl. She was into travelling, and she had done lots of walks and tracks around New Zealand with friends.
"I don't usually take people on for winter, but I needed a few extras ... and she was a good worker.
"She's just a lovely person."
The bodies of Frandi and Miss Pytlickova were found by cyclists in remote South Canterbury back country on Sunday.
Police believe Frandi picked Miss Pytlickova up in his silver BMW with the intention of abducting and having sex with her and there was a struggle in which she was killed.
Frandi's BMW was found about 3km from the bodies.
Police are likely to refer Frandi's death to a coroner.
Detective Inspector Greg Williams said the meeting of the pair was likely to have been of a similar nature to Frandi's previous abduction for sex of a 19-year-old woman, for which he was sentenced to three and a half years in prison in 2000.
He also confirmed yesterday that Frandi was under investigation over allegations of child molestation when he died, and that he had previously made a threat to take a woman into a remote forestry area and harm her.
Neighbours of Frandi spoken to by the Herald said he lived alone and mostly kept to himself, but was always friendly and polite.
When he was not away working, he was often seen working on a car in his garage.
One female neighbour said he would often come over to work alongside her husband [who was] fixing up a car he used to own.
"He couldn't wait to get it up and running," she said.
Frandi's extended family say he distanced himself from relatives after his father's death several years ago.
Waimate district mayor John Coles said he had no idea until the police revelations yesterday what sort of person Frandi was.
"I guess our community are probably very trusting people that would take people at face value," Mr Coles said.
"It does concern me all right that these people are in the community. We all think we are a pretty safe community and all know each other. So it's a pretty difficult one."
"I guess if people have done their time for the crime, there's an expectation that you give them a chance. But obviously in this case, he's been given a good chance but he has now abused it."
Mr Williams said police were still trying to establish how Frandi and Miss Pytlickova came into contact. They believe the pair may have met somewhere between Cromwell and Kurow.
Police still want to speak to anyone who gave Miss Pytlickova a ride on Saturday.
She was carrying a 60-litre blue-grey pack with her.
Results of a post mortem examination due today are expected to give police a better picture of what occurred.