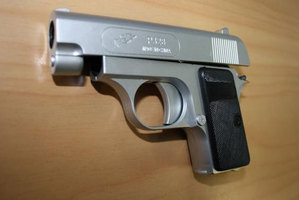 A boy who used an air pistol on a student and a teacher could be excluded from his school when he appears before its board of trustees.
The boy, who cannot be named for legal reasons, is facing criminal charges including two of assault with a blunt instrument, possession of a firearm, unlawfully carrying an imitation firearm and presentation of an imitation firearm after the incident at Paeroa College on Monday.
The 14-year-old appeared in the Youth Court in Hamilton yesterday afternoon, accused of going into a classroom with a bandanna over his face armed with an imitation pistol and shooting a fellow pupil in the face and head.
It is also alleged that he fired shots at physical education teacher Felise Tai'i who restrained him before he was taken away by police.
Judge Denise Clark remanded him to appear at the Youth Court in Thames next month.
Neither the teacher nor the student were injured in the incident.
The attacker was taken to Thames Hospital with minor injuries.
Paeroa College principal Grant Aitken said Mr Tai'i handled the situation brilliantly, but the school would review its processes.
"It's just to be sure our systems were robust enough to deal with this and to put changes in place if we need to."
He said the imitation guns which fired soft pellets and could be bought at local toy stores and coin-saver shops for about $10.
They were relatively harmless, but there had been suspensions at the school for BB gun use.
The school had sent a "clear message" to students that use of the guns during school hours would not be tolerated.
"You can fire it at your hand and it won't pierce the skin but fire it at your eye and it might be a different story and that's our concern - it has potential to cause injury."
The boy, whom the Herald understands moved from Rotorua to Paeroa and started at the school this year, had been suspended from Paeroa College for earlier incidents.
He is to appear before Paeroa College's board of trustees this week where his fate, which could include exclusion from the school, will be decided.
Mr Tai'i declined a Herald request for an interview but Mr Aitken said he had downplayed his part in defusing the incident.
"For 31 years I've been working and this is the first time I have ever seen anything like this at a school," said Mr Aitken.
The victim's father, who asked not to be named, said the incident should not reflect badly on the school, which had been good for his son.
The man said he wanted to go to the school to thank Mr Tai'i for helping his son.
His son thought he and his attacker had settled a dispute between the pair that happened at school last week.
"They had a bit of an incident which was nothing major and then the other guy had been getting in trouble quite badly so what they did was stood him down and he comes back to school playing the hero.
"It was only a plastic gun but imagine if he had his hands on a real gun what could have happened, it's a real worry."