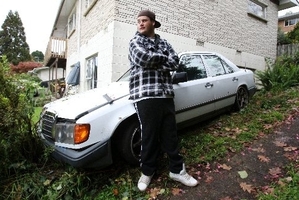 Stories making headlines across New Zealand at noon include a guy who picked up a car to save a mate who was getting squashed, a teen who opened fire on his classmates and more appalling behaviour by motorists.
The Superhero of the Week award goes to Mosh who lifted a 1.5 tonne car off his trapped cousin Josh.
A balaclava-wearing 14-year-old burst into a Paeroa College classroom full of children and shot a fellow pupil in the head three times with soft-pellet rounds from an imitation firearm before shooting the teacher.
Another teenager decided to beat up a Whakatane petrol station attendant after trying to steal food, but then Joe Public stepped in.
Police in Rotorua are appalled at motorists' recent behaviour with emergency services rushing around picking up the pieces.
A logging truck driving was cruising along State Highway 1 yesterday unaware large pine logs were falling off his truck onto the road.
Thousands of Northlanders want to work in Australia by the looks.
Go here if your pet is lost or stolen or here for a list of generally stolen things.
Fingers crossed this baby pilot whale has found its mum while five dolphins up the creek are thought to be safe.
Looks like Rotorua's Got Talent. In Taranaki, they are hopeful.
The Parole Board says convicted pack rapist Brad Shipton can now hang out with co-offenders Bob Schollum and Tauranga millionaire Peter McNamara, while his victim says his comments about wanting to move on and lead a "normal life" are insulting. You can comment on this here.
The Rotorua star of the hugely popular "ghost chips" anti drink-driving ads has returned to an old haunt.
The Manawatu Gorge could open to one lane of traffic on Thursday.
It's taken a while, but Hawke's Bay has its first female Police commander.
Green MP Gareth Hughes continues to annoy oil and gas companies along with Greenpeace and Te Whanau a Apanui.
The homed homeless in Wanganui who were made homeless again have now been homed. Meanwhile almost half the drivers in the region are failing the new driver's licence test.
If you are driving along Papatu Road, off State Highway 2 by Manutuke, you may spot a woman holding a sign saying "Your speed killed my cat, slow down."
A freak hailstorm lashed the capital this morning.
Christchurch Fish and Chip shop owner Margaret Yee had been texting when she heard the door open and assumed it was a last minute customer.
A "balloon of pressure" has finally erupted at the Ashburton District Council.
Turns out the University of Otago is really rich.
More than 2000 athletes are spending this week running up and down the hills around Wanaka.
It's Gypsy Day in the Waitaki District on Friday so look out for cow pats.
Meanwhile treasure hunters who descended on a vacant section in Greymouth's central business district are in big trouble.
Top trending items on Twitter in NZ at Noon were: #LiamFollowSpree, Doha, #SamoanLanguageWeek, #AskAlli, Sydney Dalton, Qatar, Florence and the Machine, Waimate, Tony Blair, and Inu.