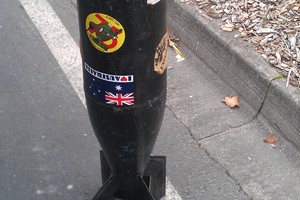 Army experts were called to an Auckland landfill after a training bomb was found dumped at the gates.
The bomb was discovered near the Constellation Drive Refuse Transfer Station in Albany on Sunday.
Inspector Les Paterson said it was unclear who dumped the bomb, but it was assumed they had intended disposing of it at the landfill. However when they found the site closed, they left it nearby.
"The area was closed off for about an hour. The NZ Defence Force bomb disposal staff arrived and inspected it, announcing it was inert," he said.
Businesses in the vicinity were evacuated while the inspection was carried out.
Police photographed the bomb once it was declared safe. Mr Paterson said the bomb was almost chest height.
It was identified as a US training bomb from WWII.
"They still explode. This type had two fuses and that apparently causes problems when untrained persons try to defuse them," Mr Paterson said.
Police believe the person who dumped the bomb knew it was inert. It was very clean and may have been passed down at least one generation as a "trophy".
"These people should have called us or our arms officer to discuss disposal options, the service is free," Mr Paterson said.
Anyone who found anything resembling a bomb should leave it exactly where it is and call police. Anna Leask