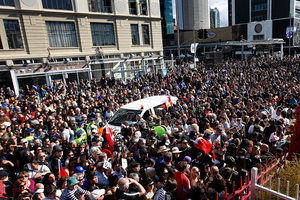 Budget papers have revealed Rugby World Cup Minister Murray McCully dipped into his other portfolio area - the Ministry of Foreign Affairs - to get $6 million he needed to expand Party Central after the chaos of the cup's opening night.
Budget documents show $6 million was transferred from the Ministry of Foreign Affairs to pay for the fan zone to be extended to include Captain Cook Wharf and Quay St.
Mr McCully stepped in and ordered the expansion after overcrowding and transport problems blighted the opening night. At the time the Government agreed to put $4 million towards the cost of the last-minute changes and the Auckland Council put up $1.3 million.
However, it was never revealed where the Government's share of the money came from. It is not clear why the Budget papers say $6 million was transferred.
Labour foreign affairs spokesman Phil Goff said it was "very convenient" Mr McCully was minister of both the Rugby World Cup and Foreign Affairs when he needed extra money.
"He's been prepared to raid Foreign Affairs to clean up the mess that only existed because there was a lack of adequate preparation for the opening night of the cup. Because of poor planning, he's just blown $6 million and been willing to take it out of Foreign Affairs simply because he happened to be minister of both portfolios."
A spokeswoman for Mr McCully said the money was an "underspend" by Foreign Affairs and the transfer was in line with the Government's statements that the Rugby World Cup would be funded from existing budgets rather than new money.
Mr Goff said Foreign Affairs money should never have been used to sort out the issues with the fan zone - especially given the ministry was being told to find savings and staff cuts were looming.
"There will be a lot of people wondering whether spending money on Queens Wharf was more important than their jobs."
Of the amount that went from the ministry, $4 million appeared to be taken from its own Rugby World Cup fund - the $10 million it set aside to host international dignitaries visiting for the tournament.
Of that $10 million to host the VIPs, only $3.5 million was used for that purpose. The remainder has been allocated to future "international marketing and promotion" events.
The paper says that the goal of securing visits by more than four leaders from other countries and 12 ministers from other countries was met.