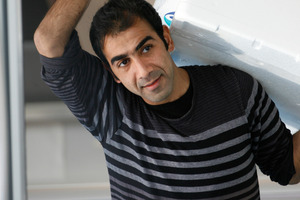 Two deported foreigners were able to return under false identities and get citizenship under their new names - and a senior Government official concedes the integrity of the system relies on the honesty of applicants.
The identity fraudsters, from Thailand and Samoa, were eventually discovered and their citizenship was revoked.
They were two of 22 cases where citizenship has been revoked on criminal grounds in the past 10 years.
Another was a Polish drug smuggler granted citizenship despite being arrested for importing narcotics from his home country.
New Zealand police told the Department of Internal Affairs of the drugs charges - but only after he had become a citizen.
The case summaries were released under the Official Information Act to the Herald after the most recent citizenship deprivation of Salam Mansoor Abdelabbas Al-Bawi in February.
The department refused to release the names of the 22 people for privacy reasons.
That decision has been appealed against.
Half of the cases were because the citizenship was obtained under a false identity and some of the identity fraudsters had criminal records.
Geoff May, general manager of citizenship for Internal Affairs, said citizenship applicants must have been permanent residents for at least five years, and are subject to stringent character tests which include a New Zealand police criminal history check.
"The department actively investigates any cases where there are concerns that the applicant cannot fulfil the character requirement."
Mr May noted the number of people who lost their citizenship privileges was low - 220,204 citizenships were granted in the past 10 years.
Herald inquiries have found that Mr May gave expert evidence against one woman in which he conceded the integrity of the system relied on the honesty of applicants.
Ping Hao was granted citizenship after she applied in May 2004 but was then jailed for six months in Australia after she admitted paying $150,000 for three Australian passports in 2000.
Interpol alerted authorities here and her citizenship was revoked.
In July 2009, she appealed against the decision in the High Court at Auckland, where Mr May supplied an affidavit which said citizenship was a privilege, not a right.
"The [department] does not have the resources to investigate fully every applicant, the information asserted by them or to go looking for concealed information," Mr May wrote.
"Even if it did, I consider the Government would not consider it a wise and prudent use of the public's finances.
"The whole citizen-vetting system is therefore based on honesty by applicants."
Justice Hugh Williams dismissed Hao's appeal and her citizenship was revoked in September 2009.
In a separate court case, she was also implicated in money lending at SkyCity casino.
The Herald can also reveal that one of the 22 revoked citizenships was for a drug smuggler called Maciek Bogdan Korczowski.
The Polish national had been granted citizenship despite his arrest in New Zealand on charges of importing amphetamine from his home country.
Further investigation found he was wanted on forgery charges back in Poland.
He was later found guilty of the drug offences in 2000, but skipped bail on the last day of his trial and went on the run for a year until being caught in the South Island.
He was deported in June 2005 after serving less than half of his eight-year sentence.
The most recent revoked citizenship is that of Salam Mansoor Abdelabbas al-Bawi, who failed in a High Court appeal in February to overturn the decision.
Al-Bawi was sentenced to six months' home detention in 2008 after he admitted lying in order to gain refugee status, residency, citizenship, and a passport under the name John Jacob Abrahim Joseph.
He also failed to disclose a conviction for violence in Denmark.
CITIZENSHIPS REVOKED
2002
Colombian For criminal offending.
2003
Chinese Failed to declare fake degree.
Samoan Deported but then obtained citizenship with false identity. Failed to disclose criminal offending.
2004
South African Sexual offending against children prior to grant.
Algerian Lived in another country under a pseudonym, and convicted there of serious crimes.
Vietnamese Undeclared offending.
Pole Maciek Bogdan Korczowski - police alerted Internal Affairs that he was arrested for importing narcotics into New Zealand, but after he was granted citizenship.
Iraqi Undeclared sex crimes.
2005
American Undeclared criminal offending.
2006
Iranian Drug offences before gaining citizenship.
Samoan False identity.
2008
American Citizenship in a false identity.
Indian Convicted of offence committed prior to obtaining citizenship.
2009
Chinese Ping Hao - false passport and identity fraud.
2010
Samoan False identity.
Chinese Convicted of drug offences that occurred during citizenship application.
Samoan False identity.
Samoan False identity.
Sri Lankan False identity. Undeclared criminal offending.
2011
Thai False identity. Previously deported under a different identity.
Iraqi False identity.
2012
Iraqi Salam Al-Bawi. False identity. Undeclared criminal offending.