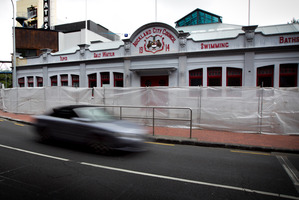 Auckland's Tepid Baths were so fragile that the building boss who headed an upgrade wonders how the structure stood up for so long.
Shane Brealey, managing director of NZ Strong, says a "good wind" could have blown the structure down after almost a century of salt corrosion and wear and tear.
Exposed internal metal roof trusses and the building's old brick facade were extremely weak, but it was not until builders began taking the structure apart that the scale of the damage became apparent.
"A good wind could have blown it down," Mr Brealey said.
"These were salt pools until 1974 and that took its toll.
"The trusses inside had been corroded from years of salt and moisture and the outside walls had so-called reinforcing bars in them but it was really only hollow pipes."
Mr Brealey said the structure was essentially a new building, up to Building Code standards, with only the facade retained - and strengthened.
The biggest challenge was working on such a confined and restricted site.
Purification equipment, gas-fired stainless-steel water-heating tanks, sewage pipes and other services can now be easily accessed in a new basement level.
A flight of stairs in a service room on the Lower Hobson St/Sturdee St corner leads to the subterranean level which runs around the pool perimeter.
Thousands of white, red, grey and black tiles are laid in two new pools. A sauna, spa and plunge pool are near reception on the Lower Hobson St side of the complex.
A new upper floor has been added, sporting a glass inlaid floor so swimmers can look up to the gym and those exercising can see swimmers below.
The roof of the building has seven layers of materials compressed into it, so condensation, water streaming down walls and dripping from trusses, is eliminated.
The council's new website says there is also a glass floor over the learners' pool. Large windows in the complex give good harbour views.
Architectural firm Jasmax designed the project.