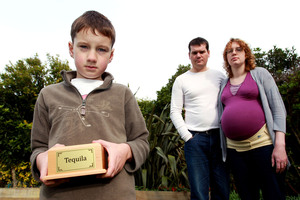 A beloved family cat has been euthanised after a vet grabbed the wrong animal.
Kelly and Richard Warriner-Simpson dropped their cat Tequila to CareVets in the Wellington suburb of Johnsonville with a sore eye after a fight with a neighbour's cat. They expected to collect him later that day with antibiotics - but collected his ashes instead.
The healthy 7-year-old moggy was wrongly euthanised when the vet grabbed him instead of a similar looking cat in the next cage.
The Wellington couple have laid a formal complaint with the Veterinary Council.
Heavily pregnant Kelly received the devastating news at work with a phone call from the clinic.
"They called and started apologising and saying all these things," said Kelly. "Finally they said he had been accidentally put to sleep.
"I was in my open plan office and I had to take that horrible call - I was so upset."
Shortly after, Kelly started having contractions.
"I was so upset and I just wasn't dealing with it well. Our midwife was amazing and was able to calm me down and stop [the contractions]."
The couple hoped making a formal complaint and speaking out would stop it happening again.
CareVets Johnsonville practice manager Nick Cooper said they had taken responsibility, apologised and paid for a new pet.
The vet was "extremely messed up" and had taken leave, said Cooper.
She has been given a formal warning and told she would be supervised by a senior vet when she returned to work.
Other changes had also been made at the clinic, including the introduction of named collars on every animal, said Cooper.
He added they had lost customers as a result of the mistake.
The family adopted two kittens to keep son Kane busy when the baby arrived.
The Vet Council of New Zealand said the case was unusual and would take about three months to investigate.