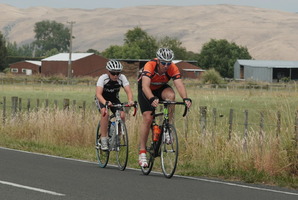 The cycling community is stunned by the serious injuries sustained by a club champion and his wife on a road near Taupo described as a "death trap".
David Joyce and Sirpa Lajunen were airlifted to Waikato Hospital after being struck by a 4WD on Poihipi Rd just after 3pm on Friday. Both underwent surgery yesterday.
Rotorua's Bay Trust Helicopter pilot Barry Vincent said the bikes had been "shattered" by the impact.
"The damage to the bikes was severe; there were fragments lying all around.
"When a cyclist is hit by a four-wheel drive, the injuries are always going to be severe. They were in a great deal of pain, even with the pain relief, but it could have been an awful lot worse."
Taupo's Youthtown Rescue Helicopter, police and St John paramedics were also on hand.
Forestland Wheelers captain Dennis Jones said Joyce and Lajunen were safe riders with plenty of experience.
Joyce was the club's long-running champion and his team had recently beat riders half their ages to win the Hope Gibbons Shield.
Until two years ago, the couple owned a cycle shop in Hawkes Bay and their son, Sean Joyce, 21, was a professional cyclist in Europe.
"Dave's been riding all of his life. This is every cyclist's worst nightmare; we've got no protection other than our safety helmet," Jones said.
Local riders suggested sunstrike may have blinded the 4WD driver.
Brother Rodney Joyce said the family were in shock.
"It's been a tough couple of days," he said. "They were going single file down a straight road on a beautiful, clear afternoon. My brother's pretty banged up and my sister-in-law, she has a lot ahead of her in terms of her recovery. Four to six vertebrae are damaged and they think some might be shattered. She had a lot of internal bleeding too."
Mark Gibson, owner of Taupo's Top Gear Cycles, had sold the couple new gear that morning.
"They did say they were heading out there. It was a nice afternoon," he said.
Gibson said he had been lobbying the council for a wider shoulder on Poihipi Rd for more than eight years.
The 100km/h zone was narrow, with grassy banks on each side, but popular with cyclists because it ran between Taupo and several scenic rides.
"There're a lot of near misses, a lot of people who get knocked off," Gibson said.
"It might cost $1 million but how much is a life worth?"
Local councillor Keith Crate, who also organises Bike Taupo events, said the council was hoping for funding to improve Poihipi Rd for cyclists.
"It's a death trap. The whole cycling community is asking for it," he said.
Police are investigating the crash.