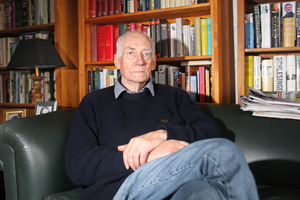 Slain veteran journalist Derek Round met the man charged with his violent murder in a gym where he trained each day.
Round, 77, and Michael Umanui Werahiko, 31, met by chance at Wanganui's Club Fitness gym, which is a short walk from where Round used to live.
Friends of Round say he spoke of Werahiko and referred to him as his "personal trainer".
A source said Round was trying to help Werahiko get his life back on track, which led to his "downfall". Werahiko has been in trouble with the law before and was jailed in 2007.
Police will not comment on what triggered the assault on Round, an assault that left him with horrific head injuries.
It is understood Round's friends were troubled by his involvement with Werahiko and the people he associated with.
Rod Trott, who met him through the Whanganui River Trust, knew of the link with Werahiko.
"I was aware that he been through the system and [Derek] got reasonably close to the guy. He referred to him as a personal trainer, official and unofficial, I don't know ... It's pretty bad."
He said his involvement with Werahiko was one of a "good Samaritan".
"To his family we can only say that he was a good man who lived a full life and will be long remembered for the difference he made to our lives."
Werahiko was charged with disorderly behaviour causing violence and threatening to kill or cause grievous bodily harm on May 18, the day after Round's body was discovered.
The murder charge was laid against him a week later.
He had been studying an arts-related course at Wanganui Ucol. Round's distinctive Jaguar had been seen parked outside Werahiko's home on several occasions.
Leanne Lock, of Club Fitness, said Round was at the gym most days.
"He would lift weights, he would do cardio and he would go in the sauna," she said.
He was well-known at the gym and would chat to different people, although few knew he was friends with Werahiko, whose arrest had come as a shock.
"For people in the gym - he used to come to the gym too - people are surprised. He was a friendly enough guy while he was here, he came in and did his workout so a lot of people are shocked he is the one accused."
The two were seen talking occasionally, she said.
A source who knew both men said Round was trying to help Werahiko.
"Maybe that was his downfall ... It's not a good way to end.
"From what I gather he was actually helping with his life and trying to help him turn his life around."
Another Wanganui friend, Dave Feickert, believed trying to help people was typical of Round's good nature.
"He was like this - befriending vulnerable people and trying to help them ... Maybe getting in too far with something, a relationship he didn't quite understand where it could go."
Wanganui police are still appealing for sightings of Round's Jaguar XJ6 car between midday on May 16 until about 8.30am on May 17.
A spokesman said clothing sought in relation to the inquiry still hadn't been found. Police are looking for a red, long-sleeved jersey, a black leather vest, dark stonewashed jeans, dark fingerless gloves, and a pair of dark sports shoes with white around the soles and coloured laces.
"The inquiry team continues to piece together information about the circumstances leading up to the death of Mr Round and there is still much work to be done," the spokesman said.
Round's funeral service will be held in Wellington on Monday.