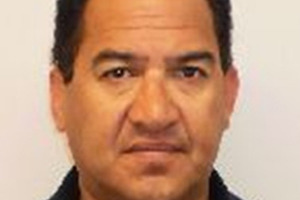 Police say a man who allegedly impersonates detectives and government staff to get free hotel rooms and rental cars is "very cheeky" and are warning people not to fall for his tall stories.
Darren Thomas Takiaho, 48, is facing 22 charges and has the same number of warrants out for his arrest. Police say he is a "prolific offender" and most of the charges are obtaining by deception.
Takiaho allegedly goes into motels, hotels and rental car companies and uses a fake name to book rooms and vehicles.
His alleged offending spans from Whangarei to the top of the South Island.
"He pretends to be a police officer, or someone from the Ministry of Education or even the Auckland Rugby Union," Whangarei Senior Sergeant John Fagan told the Weekend Herald.
"He goes to these places and says he is a detective from somewhere else down the line up for a police operation.
"He tells them to book the room or car back to the police. He'll then stay a couple of nights, or drive off."
Takiaho was not using any uniforms, but was claiming to be a plainclothes cop.
Mr Fagan said the deception was discovered only when the companies tried to settle the bill.
"When the bill comes through, say to the police, we go: actually, we don't have a detective by this name. There is no checking by the companies to see whether the person they've got in front of them is legit."
So far, Takiaho has allegedly used 25 different names to book rooms and cars.
"He's cheeky in the way he gets away with it. He's really quite clever and quiet believable," Mr Fagan said.
"He is well spoken and well dressed and he seems to know quite a lot of the language that police officers use and about booking numbers."
Mr Fagan is investigating complaints from numerous hotels, motels and rental car companies in Whangarei, Dargaville, Central and South Auckland and Blenheim.
"The hard thing for us is him not having an address. He seems to be making his way from hotel to hotel. He must know he is wanted."
Takiaho's photo had been distributed around accommodation and rental car firms in Whangarei, but Mr Fagan wanted to warn people across the country to be aware and vigilant in a bid to prevent further offending.
"The main thing is, don't take people on just their word," Mr Fagan said.
"Definitely check ID if you're not sure, especially if people are saying they are from an organisation like police.
"All officers are going to have identification cards so make sure you ask for them. Police officers are not offended if people ask to see their ID - it's a safeguard for us too."
Takiaho is also facing drugs charges relating to cannabis and utensils, and charges of breaching court release conditions.
He is described as "quite a big guy" and stands at 187cm with a solid build and a tattoo of a guitar and musical notes on his left forearm.
Also answers to
Darren Thomas Takiaho has used aliases, including:
* Darren Adrian Edwards
* Ford Thompson
* Darren McAlees
* Brian Fenton
* Dale Taylor
* Shane Broughton
* Torrin Takiaho
Description
48-year-old of solid build, 187cm tall. Well spoken and well dressed. Has tattoo of a guitar and musical notes on his left forearm.
Contact
Anyone with information about the whereabouts of Darren Takiaho should contact Sergeant John Fagan on 09 430 4500 or Crimestoppers anonymously on 0800 555 111.